Save secondhand smokers on World No Tobacco Day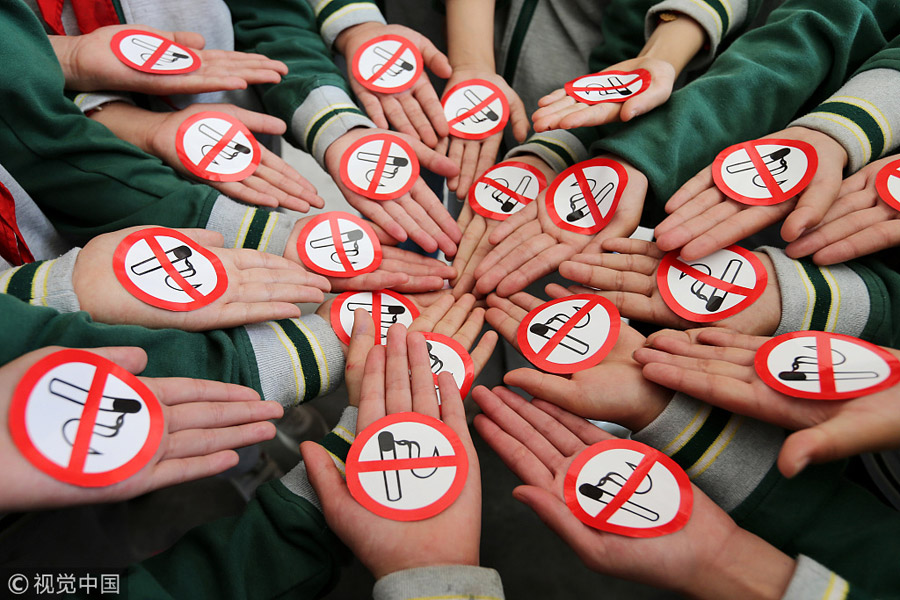 Friday marks World No Tobacco Day. On subway stations, bus stops and other heavily trafficked public places, one poster after another reminds people to avoid tobacco in order to stay healthy.
This year, a key topic spotlighted on these public-interest posters is secondhand smoking. Official data show that the people suffering from secondhand smoking in China number up to 740 million, with 180 million of them being children under the age of 18.
According to Xu Zhijian, a senior doctor on cancer prevention and treatment at the Cancer Hospital, Chinese Academy of Medical Sciences, secondhand smoking exposes the victim to higher risks of cancer, a problem that is no less serious than that of smokers.
While China currently lacks accurate data, previous data in the US have shown an estimated 20 to 50 percent of lung cancer patients got their cancer from secondhand smoking. And the lungs are just one of the victims of smoking inside a human body. From the brain to the heart, from the stomach to the liver, almost all organs face higher risks of cancer if a person is exposed to smoke.
A primary component of tobacco is nicotine, which is released into the bloodstream during the process of smoking and can cause cancer in almost every part of the body. Stomach cancer, pancreatic cancer, breast cancer and bladder cancer all have a confirmed link to smoking.
Electronic cigarettes, which have become quite popular in recent years, don't pose any less of a risk than traditional ones. Their smoke contains as many carcinogenic substances as traditional cigarettes, and can equally damage the health of secondhand smokers.
In order to curb this problem, the most effective method is for smokers to quit smoking. If it's too hard to change smokers' deeply ingrained habits, a good start is to ban smoking in public. However, public smoking has only been prohibited in about 20 cities, most of which are metropolises or provincial capitals. In smaller cities or towns, hundreds of millions of people still suffer from cancer risks resulting from tobacco, even though they do not smoke.
The health of hundreds of millions of people needs protection under the law. It's time for legislators to hurry up and help.
Most Viewed in 24 Hours
China Views