Fox debate shows importance of mutual respect and trust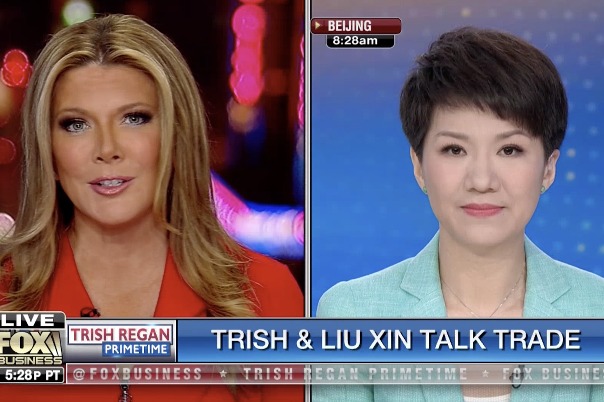 On Wednesday US time, CGTN anchor Liu Xin joined Fox Business Network host Trish Regan on the latter's Primetime show for a live television discussion on China-US trade issues, which is the first time television hosts from the two countries faced-off live. China Daily writer Zhang Zhouxiang comments:

After their feisty exchanges leading up to the show, their live exchanges were remarkably courteous, although the first point that Liu had to make was to counter an assumption of the Fox News host.
There is no information on how much preparatory work Regan had done for the talk. Obviously, she is intent on associating everything in China with the State and assume everything is done by order of the authorities.
That's not the case. Anybody who has traveled to China even once will know the true picture of China is colorful and diverse. Visitors can hear many different voices and see many different kinds of people. There are basic social consensuses, such as patriotism, but that is true of all countries. And as Liu pointed out, there are many private companies, which account for 80 percent of Chinese employment, and contribute heavily to the country's innovation.
It is, of course, illusive to expect one talk between two news anchors to change the minds of a whole country. Yet their dialogue was a good demonstration of the deeper interaction between the two largest economies.
Maybe more reporters from both sides should be encouraged to interact with each other. There was only one minor flaw in the talk, though-it was always Regan asking questions and Liu answering them, which is more like a Q&A than a dialogue.
Next time, it would be better to let both sides have the chance to ask and express themselves, so that not only they, but also the audiences will know more about each other.
Most Viewed in 24 Hours
China Views