Songyang's architectural acupunctures impress experts
Share - WeChat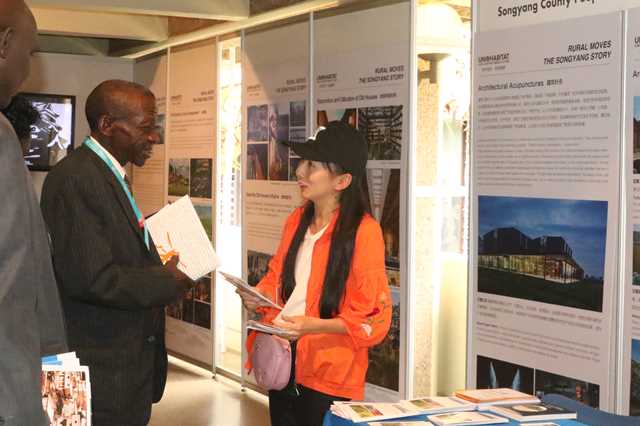 The architectural acupuncture strategy of Songyang county in East China's Zhejiang province was highly praised by experts on the sidelines of the ongoing UN-Habitat Assembly in Nairobi, Kenya.
The experts termed the strategy as an innovative and successful rural revitalization method that can be replicated in other parts of the world, even as rethinking of rural development remains a pressing global challenge.
Franz Gatzweiler, executive director of Urban Health and Wellbeing Program of the International Science Council, said the acupuncture idea is exciting and wonderful because it starts with the thought of a city, urban and rural area being able to activate flows by leveraging on certain nods.
"It means putting a "needle" in a certain area where energy, economics, and values start flowing again and improving the health of the system's organism. It's basically about activating flows. I love the idea," he said.
The architectural acupuncture strategy aims at using local materials and construction techniques to renovate houses integrated with historical context. This is in addition to restoration of the rural identity and stimulating economic development in the area.
Basically, the architecture projects serve as small-scale, yet long-term catalysts for rural revitalization. The projects range from economic and cultural development to utilizing abandoned infrastructure, and the creative use of natural resources.
Remy Sietchiping, unit leader of the regional and metropolitan planning unit at UN-Habitat, said the Songyang experience on rural revitalization will make people think twice, because it's cost-effective, the impact is huge and it has transformed the lives of many people.
"They call Songyang county a rural area but it looks like a city. The projects are low cost and short-term and they use local materials. The outcome has been a link between ecology and economy," he said.
Sietchiping said it's exciting that the villagers sell their products via Taobao.
"The system has reduced rural urban migration and poverty. It is attracting people to the village, where they have more disposable income and the environment is cleaner than cities," he said.
Due to rural revitalization, Sietchiping said the life expectancy in the villages has improved significantly. Job opportunities also have been created, there has been transfer of skills from older people to the young, tourism has increased in the rural areas and people are adding value to their produce.
"African countries can find their own rural revitalization ways that will address their specific challenges," Xu Tiantian, principal architect from Beijing DnA Design and Architecture, said since the launch of Songyang county's rural revitalization program in 2013, rural residents are healthier and have gained confidence of their own villages.
She said rural revitalization has produced a better countryside, provided alternative living for urban residents and created interaction between urban and the rural areas.
"People are happier and are earning better incomes and the village is welcoming more tourists," she said.
Wang Jun, Party secretary of Songyang county, said the new rural model has provided a healthier ecology and lifestyle for urban residents that has in turn induced interactions between the county's urban and rural regions.
"Over the last three years, 3,900 new residents have resettled in the villages. Most of these people are young entrepreneurs who choose to live in the villages and start new businesses with the assistance of internet facilities and modern technologies," he said.
Wang said Songyang has witnessed a shift from a singular economic form based on agriculture to multiple economic forms based on high-quality agriculture and in-depth integration of agriculture, industry, trade and cultural tourism.
"We have adopted tourism as an important driving force for economic development on the county level, and promoted the county's standardized production base for green food, leisure, the rural museum, and folk festivals on all county levels," he said.
Wang said almost 120 villages in the county have implanted new forms of private enterprises, such as bed and breakfast accommodations, farmhouses, ecological agriculture, and cultural industries.
For example, the brown sugar workshop in Xing village not only serves as a production workshop but also a space to exhibit rural-specific crafts and heritage. Combining tourism to increase the price of brown sugar and population growth, the annual number of tourists has grown from 200 visitors to 15,000 visitors in two years.
Wang said Songyang is becoming a healthy garden city for quality living, with a balanced development of the rural and urban.
He said the increasing need to build an ecological and civil society has increased the prominence of the economic, ecological, social and cultural values of the rural areas.
"Let's place the rural in the same position of importance as the urban and integrate developments in both, so that urban prosperity and rural revitalization can complement and benefit each other," he said.
Wang hopes that rural revitalization in Songyang over the years could offer solutions and provide new visions and perspectives for the future.
He said Songyang has preserved all the agricultural practices and is known as "the county specimen of classical China".
In addition to the brown sugar factory, other architectural acupuncture projects in Songyang county include a tofu factory, the Wang Jin Memorial Hall, Hakka Indenture Museum, Bamboo Theatre, Water Conservancy Center, Damushan Teahouse, Shimenxu Bridge, and Dushan Leisure Center.
"In the tofu factory in Caizhai village, the average household income increased by 20,000 yuan ($3,000) in the first quarter alone.