Take pains to promote labor analgesia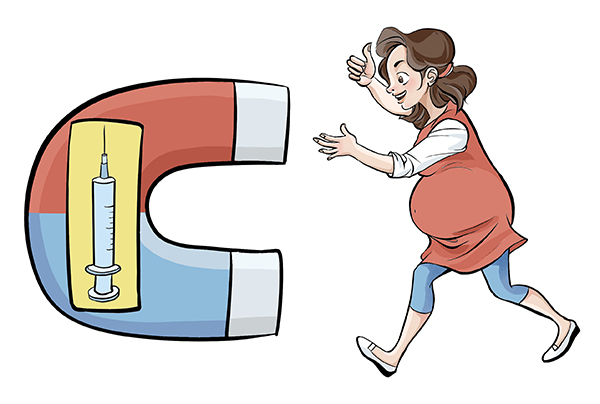 At a news conference on Monday, the National Health Commission said that the rate of Caesarean deliveries nationwide was 36.7 percent in 2018, which is lower than the 46 percent in a World Health Organization survey in 2010. They also said that they would popularize measures such as labor analgesia to encourage more pregnant women to choose natural births. China Daily writer Zhang Zhouxiang comments:

It has long been common sense that a natural birth is better than a C-section for both mother and baby, because it gives the newborn better immunity protection, while the woman recovers more easily after the delivery. Only those women who have difficulties giving birth naturally or face risks should have a C-section.
Yet natural birth has a major disadvantage: It involves a lot of pain. According to medical experts, if pain is classified into 10 levels, giving birth is at the top. On Mother's Day in 2018, a group of domestic male entertainment stars tried a device that imitated the pain of delivery, and most of them screamed so loudly that they gave up at Level 6. Some of them even called for a "Caesarean birth, please!"
It should be noted that these male stars only suffered the Level 6 pain for 10 minutes, yet during an average delivery, a woman has to suffer the Level 10 pain for at least a couple of hours. More, mothers have to suffer more pain than Level 10 alone, because a majority of them will get a side cut on their birth canals to make it more convenient for the babies to come out. That they cannot endure the pain is one of the main reasons why many healthy women choose to have a C-section when in labor.
Labor analgesia proves quite an effective way to lessen the pain of delivery, but data show only 10 percent of women use it during their deliveries.
That's also why, on social networks, many comments laud the health authorities for having found the correct way of encouraging natural birth. By encouraging more hospitals to apply labor analgesia, they are encouraging more women to opt for a natural birth. An important reason why more women do not choose labor analgesia is there is a widespread rumor labor analgesia is an anaesthetic and might harm a baby's brain. That's just a rumor and has no medical support at all, but many women and/or their families believe it and refuse the offer of a labor analgesia.
Therefore, it is necessary for hospitals and health authorities to do more to counter the rumor.
Most Viewed in 24 Hours
China Views