Governors Forum shows desire for warm relations
By Zhao Huanxin and Kong Wenzheng in Lexington, Kentucky | China Daily Global | Updated: 2019-05-24 22:42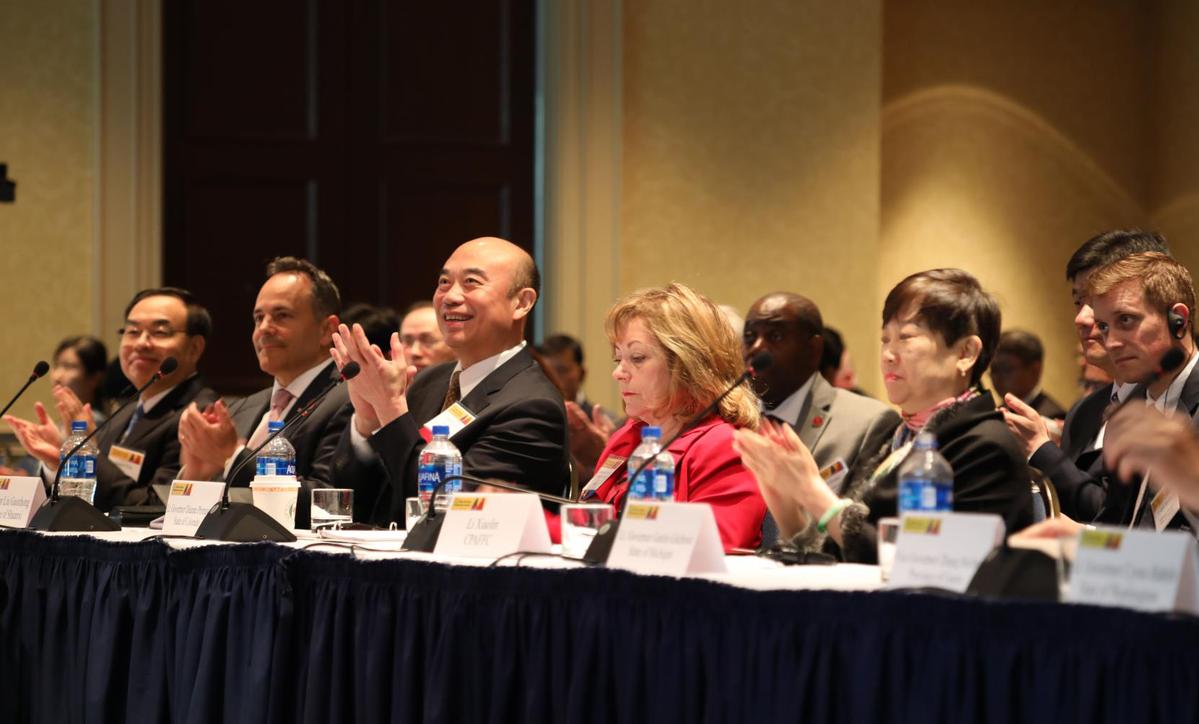 Lexington, Kentucky, the center of the Bluegrass state, is less than 600 miles from the White House with almost the same weather on Thursday; but a China-US Governors Forum being held here teemed with an atmosphere that is quite different from that in Washington.
While the world's top two economies are embroiled in a protracted trade spat, with the Trump administration escalating tariffs and Beijing retaliating, governors and diplomats seemed unscathed by the impasse, vowing to ramp up exchange and cooperation at the sub-national level, which they said is critical to developing and defining China-US relations.
Speaking at the Fifth China-US Governors Forum, Chinese Ambassador to the US Cui Tiankai said that in Kentucky, and many other states, he always finds true friendship, not groundless suspicions; people focus on cooperation, not confrontation, and they share hope for greater engagement, not the so-called "decoupling" or estrangement.
"We are gathering today to explore how to work toward a better future for China-US relations. This fully demonstrates the confidence in and expectations of our relations at the sub-national level," he said.
The Chinese envoy said earlier that local-level cooperation between the two countries is a "bright spot" in bilateral relations.
He told governors and lieutenant governors of Kentucky, Tennessee, Colorado, Michigan and Washington state at the event, that trade with China has created at least 160,000 jobs in these five states and delivered real benefits to their people.
It is concerning, however, that these same states have seen a decrease of their goods exports to China as a result of the trade frictions that began last year, he said.
"We need to pay serious attention to this, and not let some ill-informed, ill-intentioned people incite a 'new Cold War' at the expense of the people's interests," Cui said.
"We have been more convinced than ever before that the China-US relationship belongs to our people and its future should be defined by the people," he added.
In a video message to the forum, US Ambassador to China Terry Branstad also highlighted the role of sister-city and sister-state relationships and people-to-people exchanges in fostering mutual understanding and long-term friendship between the two countries.
"I'm a firm believer that sub-national cooperation is critical to the US China bilateral relations," Branstad said.
The number of sister provinces/states and sister cities between China and the US has grown into 277 pairs, Li Xiaolin, president of the Chinese People's Association for Friendship with Foreign Countries, one of the sponsors of the event, said at the opening of the forum.
At least 150 representatives from China's local governments and business communities attended the two-day forum, which demonstrated the passion of the Chinese side in deepening collaborations at the level of provinces and states, Li said.
At the opening ceremony on Thursday morning, one by one, local officials made full use of their presentations to tell the participants about the best of their states or provinces, underlining the role of sub-national cooperation in boosting bilateral relations and wooing business opportunity.
Tang Liangzhi, mayor of Chongqing, said his city and Shaanxi, Gansu and Jiangxi provinces, which have sent high-ranking officials to the forum, are now on the frontline of China's opening up.
They look forward to upgrading sub-national economic and trade relations with US states, while also expanding exchanges in the fields of education, science and technology, culture, tourism and sports, he said.
"There's so much to be done," said Cyrus Habib, lieutenant governor of Washington.
"The state is at the core level of relationship building," said Bob Holden, former governor of Missouri, and co-founder of the United States Heartland Association. "It lays the foundation for future cooperation."
Kentucky Governor Matt Bevin also said when people in the US and China understand one another, great things are possible.
"It is our responsibility, each of us individually and as a group, then at the sub national level, we will establish relationships, we will establish friendships," he said at the forum.
"When America is strong, that's good for China. When China is strong, that's good for America," he later told reporters.
Asked by China Daily what he would say to other states after he led a Kentucky delegation to make a successful presence at the first China Import Expo in Shanghai last year, Bevin said, "What I would tell these other governors is go to China, invite China to come and see you travel to other countries as well to establish personal relationships."
Kentucky's goods exports to China have grown by 157 percent over the past decade, more than doubling the overall growth rate of that to other countries, according to the latest statistics of the US-China Business Council.