Bike industry takes a spill over tariffs
Share - WeChat Number of bicycles sold in US dropped by 15 percent in first quarter of 2019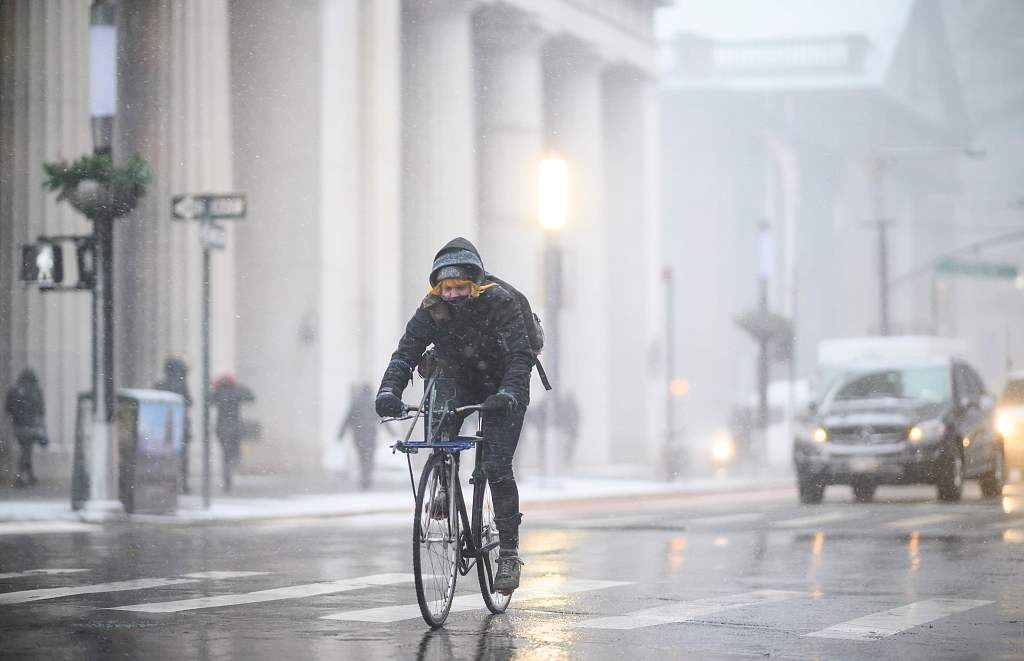 The American bicycle industry is taking a direct hit from US trade tariffs on bikes and parts made in China and is calling for the trade dispute to be resolved.
As talks to end the 10-month-old trade war between the world's two largest economies stalled, US President Donald Trump on May 10 announced he was raising existing tariffs on $200 billion in Chinese goods from 10 percent to 25 percent.
The move prompted Beijing to retaliate by raising tariffs on $60 billion of US goods as of June 1.
US Treasury Secretary Steven Mnuchin said on Wednesday that the United States was at least a month from enacting its proposed tariffs on Chinese imports as it studies the impact on consumers.
"There won't be any decision probably for another 30 to 45 days," Mnuchin said in a hearing before the US House of Representatives Financial Services Committee.
For bicycle shop owners and makers in the US, Trump's proposed increase of tariffs from 10 percent to 25 percent will hit their businesses hard because most bikes and parts they import are made in China.
China accounted for 94 percent of the 15.3 million bikes imported into the US in 2017, according to the Bicycle Product Supplier Association. At least 500,000 bicycles are manufactured in America but many of their components come from China.
Figures from market research group NPD Group Inc show that the number of bikes sold in the US dropped by 15 percent in the first quarter. Revenue fell by 2 percent.
A 10 percent tariff by the US on Chinese goods took effect in September and has been detrimental to sales, Nyle Nims, president of Cycle Force Group in St Ames, Iowa, told China Daily. His company sells bike parts and accessories made in China.
"I'd like to see them [Trump and Chinese President Xi Jinping] go sit down at a table and discuss in a meaningful way a settlement of the issues over the protracted period of time that it will take to settle the issues, instead of getting out of bed one morning and saying I'm going to tax the American public 10 or 25 percent more."
Nims said that he has been been buying in China for more than 40 years, and "we have a very strong relationship".
"We don't have intellectual property issues in our industry to speak of, or I'm aware of, so I don't think it's a major issue. If that's the main driver of this, [it is] best settled by intellectuals who know how to deal with it," he said.
Ryan Zagata, president of the Brooklyn Bicycle Company in New York, told China Daily: "As of about 10 or 12 days ago, we have bikes on the water that we are going to have to start paying duties on, an additional 15 percent duties on. For every container that comes in, we're probably talking between about an additional $8,000 to $10,000 in additional tariffs for that container. And it's the exact same product that it was 50 days ago when we were paying 10 percent additional tariffs.
Zagata said that the base tariffs on bicycles is 5.5 percent more, so he raised prices and is considering a 10 percent fee on customers to cope.
Morgan Lommele, state and local policy director at People for Bikes and the Bicycle Product Suppliers Association, told China Daily:
"Bike manufacturing in China is about 60 million feet of factory space and that's taken years and years to establish. Domestic manufacturing of bicycles dried up 20 or 30 years ago, so one of the arguments from the [US] administration is 'gosh, you can move your manufacturing to the US,' but in reality if it does go, it's going to go to another Asian country or stay in China."
"Down the road, the retailer, the small business, the customer is going to suffer from it," Lommele said.