Retiree lives life with his roller skates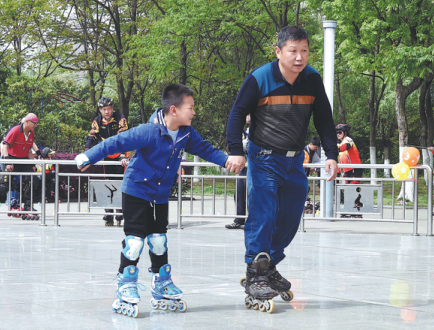 Since 2007, 59-year-old Shi Shengkai from Wuhan, Hubei province, has been traveling across China by driving and roller skating. Shi said that the sport is cool and brings him health, happiness and an independent life.
At the end of this month, he plans to drive to Qinghai Lake in Qinghai province and skate there with his group members.
As a group leader, Shi and five other seniors finished their journey from Wuhan to Ningbo in Zhejiang province by car and roller skates on May 4.
"Roller skating is not a sport exclusive to young people. Seniors can do it well too," Shi said.
Before picking up the sport in 2006, Shi had pains in his chest, legs and feet for a long time and he hobbled as he could not walk. He went to several hospitals, but he did not receive any effective treatment.
"I was like a patient with incurable diseases in my 40s. I felt frustrated until I saw some seniors roller skating in a square," he said.
"I work as a driver and I like the fast speed and excellent skills of roller skaters so I joined them. After eight months of exercise, I lost 10 kilograms and I could hardly feel any pain."
Shi organized an online group of senior roller skaters in 2007. In the past 12 years, about 300 members of his group, with an average age of 50, clocked in a skating distance of 80,300 kilometers, going as far north in Heilongjiang province and to the south in Hainan province.
In 2013, Shi and four other skaters traveled about 1,300 km for 13 days from Xinyang in Henan province to Beidaihe in Hebei province to take part in a roller skating festival. It was the longest distance that Shi had ever skated since he started.
Every weekend, Shi skates about 100 km in 10 hours with his friends around nearby towns and then drives back to Wuhan.
"We carry a set of utensils and cook for ourselves wherever we are resting. This is the happiest time during the week," he said.
On most Tuesday nights, Shi leads some of his team members to build up their strength by skating to Jinshan road in Wuhan for about 40 km. Every Thursday night, they practice dragon dancing while roller skating.
"In the beginning, some of us would fall to the ground but we got up immediately. Tumbling made us stronger and helped improve our skills," he said.
The group has an 84-year-old member, Liu Fapu, who began roller skating at the age of 77 and "is never afraid of falling down", Shi said. "He always goes to the supermarket by roller skating."
According to Shi, Liu has traveled to many countries like Spain, Australia and South Korea and roller skated there. He used to work at a power plant. All his funds came from the money he made from selling his apartment. Liu now lives in his daughter's home.
Like Liu, Shi also invests a lot in his hobby. He has eight pairs of roller skates, with the most expensive one costing about 1,000 yuan ($145).
"Seniors can have their own hobbies and lead lives independent of their children. I don't agree that seniors should take on everything in their families like revolving around their grandchildren every day. We can live in a way that we like," Shi said. "My daughter, wife and nephew all fell in love with roller skating through my influence."