Spiderwoman cannot give up love for climbing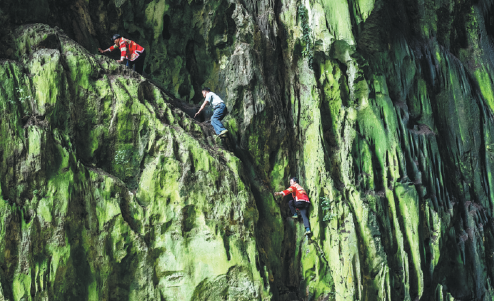 Without the use of any climbing gear or even a rope, Luo Dengping crawls up and down a vertical cliff almost effortlessly.
The 38-year-old is a native ethnic Miao woman from Getuhe village in Ziyun county, southwestern China's Guizhou province. Growing up in a place famed for its steep karst mountains, Luo started climbing cliffs around the age of 15.
"I've always loved climbing, but when I was young, I knew it was something for the boys, not for a girl," she said.
Luo's father was one of the best climbers, and he taught cliff climbing to young apprentices. "When I told my father that I wanted to learn too, he refused but I pleaded with him to let me do it," she said.
Later, Luo studied along with five of her father's trainees. Thereafter, years of practice made her a good climber. When she was 20, she started working for a local scenic spot, and her job is to climb mountains.
The tradition of cliff climbing goes back hundreds of years for the local ethnic Miao people. Back then, climbers ascended the mountains to place the coffins of deceased family members in caves. Mountain climbing was also popular as locals liked to collect medicinal herbs from cliffs.
The tradition has now been revamped by booming rural tourism in Luo's hometown. During the four-day Labor Day holiday at the beginning of this month, about 16,000 tourists visited the Getuhe scenic area. Many of them were attracted to the daredevil performance staged by the climbers.
Luo works in a six-member group to climb a 100-meter cliff. The other five performers are men.
"When there are many tourists, I climb up and down about five or six times a day," she said.
Years of climbing have left her hands calloused, but she has never missed a step in the past 19 years. She attributes her success to the golden rule of cliff climbing that her father taught her. "Do not push yourself too hard if you feel that you cannot do it. Try as many times as possible," she said.
Luo earns about 5,000 to 6,000 yuan ($730 to $870) a month, which includes a base salary and commission from the number of tickets sold to tourists each day. Her salary increases as the number of tourists grows.
Her family is worried about her safety, but she said she cannot give up something she loves doing.
Luo's two children - an 18-year-old daughter and a 15-year-old son - are both in school. "If they want to learn cliff climbing in the future, I can certainly teach them," she said.
Huang Xiaobao, another climber, said: "We are trying to find interested young people, take them as apprentices, and train more spidermen and spiderwomen."
Xinhua