Garcilaso's Inca roots a highlight of Beijing event
Share - WeChat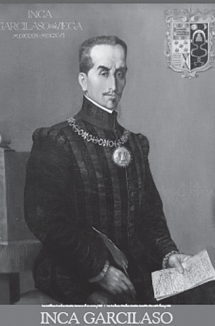 Chronicler Inca Garcilaso de la Vega - whose name is less well-known in China than in some other parts of the world as compared to Spanish author Miguel de Cervantes and English playwright William Shakespeare - died on April 23, 1616, the same date as the two other literary icons.
The date was announced as the World Book and Copyright Day by UNESCO in 1995.
The Cervantes Institute in Beijing recently held an event, where Peruvian writer Fernando Iwasaki and Xu Shicheng, a researcher with the Latin America Institute of the Chinese Academy of Social Sciences, discussed Garcilaso's works.
Born in the city of Cuzco in Peru in 1539, six years after the Inca empire had perished, Garcilaso was the son of a Spanish conquistador and an Inca princess. He was seen as a mixed-race person, or mestizo, a word that was adopted by the first Spaniards who had children with local women.
"I openly call myself by it (mestizo), and pride myself upon it," wrote Garcilaso in the Royal Commentaries of the Incas.
According to Iwasaki, Garcilaso's parents never got married, which is why he lived with his mother's Inca family for the first 10 years of his life before his father took him into his household.
"He learned a lot about Inca society and people since childhood."
Garcilaso left Peru at age 20 in 1559, after his father's death the same year, and didn't returned from Spain during his lifetime. He wrote and translated many important books, including the Royal Commentaries of the Incas, which records the history of the Inca empire and other aspects of that society.
"The book is considered among his greatest contributions. In many ways the image of the Incas throughout the world is based on Garcilaso's descriptions in the book," Xu says.