Colorful composition
Share - WeChat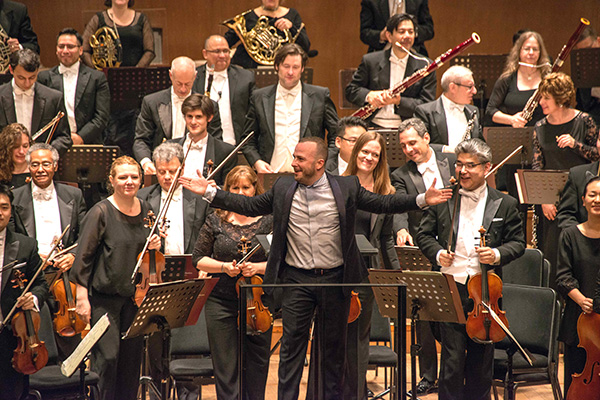 Inspired by a painting at the Mogao Caves that depicts a fabled deer, composer Tan Dun's latest work is a vocal concerto for soprano and orchestra, Chen Nan reports.
For Oscar-winning composer Tan Dun, his ideas about traditional Chinese cultural values - such as loyalty, righteousness and honesty - often derive from the stories his grandparents told him when he was a child.
One of the tales he can still remember is called The Deer of Nine Colors, which is about a fabled multicolored deer that saves a drowning merchant who promises not to tell anyone about its existence. However, the merchant breaks his oath and leads the king's army to hunt down the deer when he is tempted by a reward offered by the king when his concubine demands a coat made of the deer's skin. When the merchant falls into the river once again, he drowns.
The story is inspired by a well-known painting from the ancient murals at the Mogao Caves in Dunhuang, Gansu province, and was adapted into a popular Chinese cartoon feature in 1981 by the Shanghai Animation Film Studio and subsequent children's books.
When the National Center for the Performing Arts commissioned the composer to write a music piece, Tan wrote a vocal concerto for soprano and orchestra, titled The Deer of Nine Colors.
Premiered at the NCPA by the Philadelphia Orchestra under the baton of Yannick Nezet-Seguin on Friday, the vocal concerto, performed by Chinese soprano Lei Jia, will be staged at the Shanghai Oriental Art Center on May 26.
The concert on Saturday closed the NCPA May Festival, an annual event started in 2009, which focuses on chamber music. It is also part of the ongoing tour of the Philadelphia Orchestra, which is celebrating 40 years of the establishment of diplomatic ties between China and the United States.
"When I wrote the piece, the images of the kindness of the deer and the greedy merchant who betrays his savior were vivid in my head, and the story is still enchanting to me," says the 62-year-old Tan, who was visiting Beijing ahead of the premiere. "When I went to Dunhuang to actually see the painting, I felt like I was traveling back thousands of years."
The vocal concerto, as Tan says, is like a one-act opera that blends a symphony orchestra with Chinese percussion instruments such as drums and gongs and the human voice.
Most Popular