Balancing points
The Belt and Road Initiative is a means to reduce the deficits in trust, peace, development and governance
In his speech at the closing ceremony of the China-France Global Governance Forum on March 26, President Xi Jinping used four terms - trust deficit, peace deficit, development deficit and governance deficit - to describe the current global situation.
Deficit, the key word here, boils down to a lack of balance, coordination and compatibility. Big and small nations, the established and the emerging economies, have conflicting interests in wealth distribution, mechanism-building and development vision. Their divided political agendas have undermined the capacity to fend off risks.
On April 25, the Second Belt and Road Forum for International Cooperation was held in Beijing. It attracted 6,000-plus foreign guests from more than 150 countries and 92 international organizations, including state leaders and the heads of multinational organizations. With global governance at a crossroad, the timing to hold such a forum could not be better.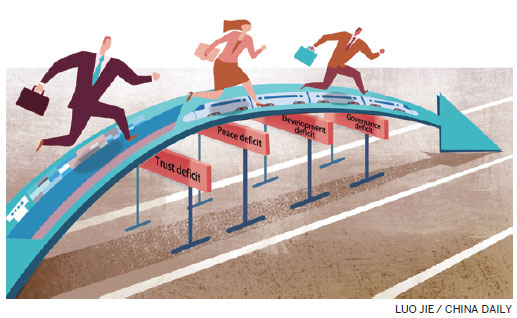 First of all, to reduce the trust deficit, we must engage in consultation and dialogue. Joint negotiation and mutual sharing are principles advocated by the Belt and Road Initiative.
Communication is the key to building trust. The Advisory Council of the Belt and Road Forum for International Cooperation is a poster child for this. Established at the end of 2018, the committee is comprised of political dignitaries, heads of international organizations, business leaders, and well-known scholars. It is poised to be a specialized non-profit organization of international influence. The establishment of such an international advisory committee shows that China is seeking common ground and embracing wisdom from all the participating countries.
To reduce the peace deficit, we must promote regional connectivity and innovative thinking. The Belt and Road Initiative links the regions and sub-regions around China and extends to Latin America. It goes beyond transportation network connectivity, because it is set to enable wider access to the internet and information. China's ambition to provide better availability and affordability of broadband networks and services to participating countries mirrors its unorthodox way of pursuing peace and development.
Better connectivity breeds better communication, and a more compatible mechanism of cooperation helps tackle security problems and nurture cross-regional peace concepts. At this year's Belt and Road Forum for International Cooperation, China announced its plan to invite 10,000 foreign guests, who are delegates of political parties, think tanks and NGOs, to visit in the next five years. Such people-to-people communication as the cornerstone of peaceful coexistence can cement mutual trust and shape a universal security concept.
Third, to reduce the development deficit, we need to complement each other's strength and resources. The Belt and Road Initiative is aligning itself to the development strategies of nations, the regions and the sub-regions it has connected. It aims to provide high-quality and sustainable public goods that will benefit all stakeholders.
The Belt and Road Initiative infrastructure projects span Central Asia and the Caucasus, Europe, Africa, South Asia, Southeast Asia and the Pacific region, helping countries along the routes better integrate into the global supply chain. At the Second Belt and Road Forum for International Cooperation, China proposed sustainable infrastructure of higher quality and diversified and innovative collaboration models - such as establishing overseas industrial zones and multilateral financing institutions, issuing Silk Road bonds, and expanding third-party market cooperation - to promote mutual benefits and ensure better livelihoods.
But the international community urgently needs to address the governance deficit, as there is an absence of effective mechanisms and a lot of competing solutions. The Belt and Road Initiative itself is a cooperation platform that provides a governance solution. The 2019 forum assures the world that China remains committed to its opening-up policy and international trade liberalization; moreover, it will continue to build platforms to facilitate international trade, investment and financing.
China will enable dialogues on trade policies, specify the norms and rules of international cooperation under the framework of the Belt and Road Initiative. The framework is aligned with some development targets of the United Nations, the Association of Southeast Asian Nations, the African Union, the European Union, and the Eurasian Economic Union.
Meanwhile, the forum highlighted the Belt and Road Initiative's contribution to global governance. It reiterated the principle of cooperation and the concepts of transparency, sustainability, environmental protection and integrity. It advocated green infrastructure, green investment, green finance, and launched the Beijing Initiative for a Clean Silk Road to combat corruption.
The success of the Second Belt and Road Forum for International Cooperation Summit showed it is a maturing China-led dialogue mechanism, and that the country, which is learning from the best practices from other countries, is becoming a leader in pursuit of more inclusive global governance.
Zhai Kun is senior research fellow with Taihe Institute and Fan Jiarui is a PhD candidate of School of International Studies at Peking University. The authors contributed this article to China Watch, a think tank powered by China Daily. The views do not necessarily reflect those of China Daily.