Apps new go-to 'buddies' for senior citizens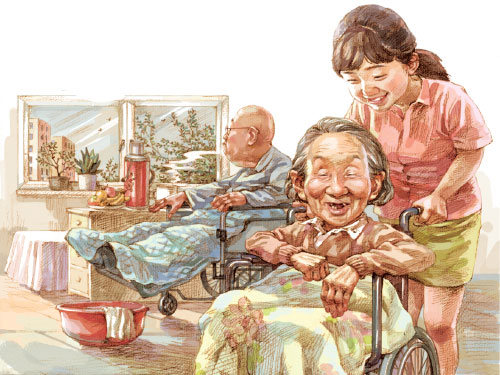 Editor's note: Countries and regions worldwide are facing challenges posed by aging populations. This is part of a series in which China Daily looks at the issue.
Beijing retiree Chen Yun checks her mobile phone and taps a few numbers on its screen to make a digital payment. She expects the new running shoes - her third online purchase of the day after a neck-support pillow and thermos flask - to arrive at her doorstep within two days.
"It took some time to set up but I've got used to shopping with my phone now," said Chen, 68.
Other than major e-commerce portals like Taobao and JD, Chen also spends much of her time on leisure and recreational apps such as popular card game Doudizhu and video portal iQiyi.
Chen is just one of a growing number of digital-savvy elderly consumers making up the Chinese "silver economy" that businesses with the latest technologies are targeting.
At a community park in the Chinese capital, 61-year-old Li Qin and her friends move to the beat of trendy tunes as part of tutorials offered by the Tangdou Square Dance app.
"We have learned many new steps from the app," Li said. "It allows us to record and edit our performances. I've also made many new friends through it. I feel I'm getting younger by the day."
The dance app has recorded more than 200 million users, with seniors comprising a substantial portion. Advertisements form most of its revenue and it expects to collect fees from an increasing number of users who can also buy gifts and related products while watching its online content.
China has the world's largest number of senior citizens and it is aging fast, President Xi Jinping said at a collective study session of the Political Bureau of the Communist Party of China Central Committee in 2016.
Xi noted the government will step up efforts to cope with challenges brought about by the aging population, saying more efforts should be made to develop the elderly care market and other sectors related to the graying population.
Thanks to the mobile internet technologies, a growing number of elderly people are actively embracing the transformation.
Across the country, more than 50 million mobile internet users are aged 50 and above, significantly adding to the potential of the silver economy, according to statistics from app analytics group QuestMobile.
"In modern society, internet and digital technologies are tools that can convey and carry emotion. After retirement, many seniors lack proper social space. ... The internet opens a new world to them," Cheng Wu, vice-president of Tencent Holdings, said at a news conference in Beijing.
There were 241 million people aged 60 and above in China by the end of 2017, accounting for 17.3 percent of the total population, according to the Office of the National Working Commission on Aging. The number is expected to touch 487 million by 2050, or 34.9 percent of the total population.
There were 829 million internet users in the country as of December last year, with more than 50 million of them aged over 60, figures from the China Internet Network Information Center showed.
Higher computer literacy rates in the silver economy are also expected to fuel demand for digital services, with many people born in the 1960s and 1970s entering the market, said Zhou Zhengshun, a researcher from the China Association of Social Welfare and Senior Service.
Like retiree Chen Yun, the senior netizens are increasingly tapping the app's various channels to access retail, dining, transportation, entertainment and many other services, according to Tencent.