Ten killed in collapsed Shanghai factory
Ten people have died in hospital after a factory wall accidentally collapsed in Shanghai Thursday, local authorities said Friday morning.
As of 1:45 am Friday, 25 people who were trapped have been rescued, 10 of whom died after ineffective treatment, according to the municipal bureau of emergency management.
A part of a factory plant in Shanghai that was undergoing a revamp collapsed on the morning of May 16, trapping dozens of people, according to local media.
The accident happened at around 11 am.
Firefighters said as of the evening of May 16, a total of 23 people have been found at the site and sent to nearby hospitals. 7 were dead after accepting emergency treatment. The rescue continues.
Medical workers had to give the latest survivor an amputation on-site to help the man escape, as his leg was trapped under debris. He was then taken to the hospital.
Party chief of Shanghai Li Qiang and Shanghai Mayor Ying Yong went to the site in the afternoon, urged relevant departments to investigate the cause of the accident, and called for rescue and medical teams to go all out to save the victims.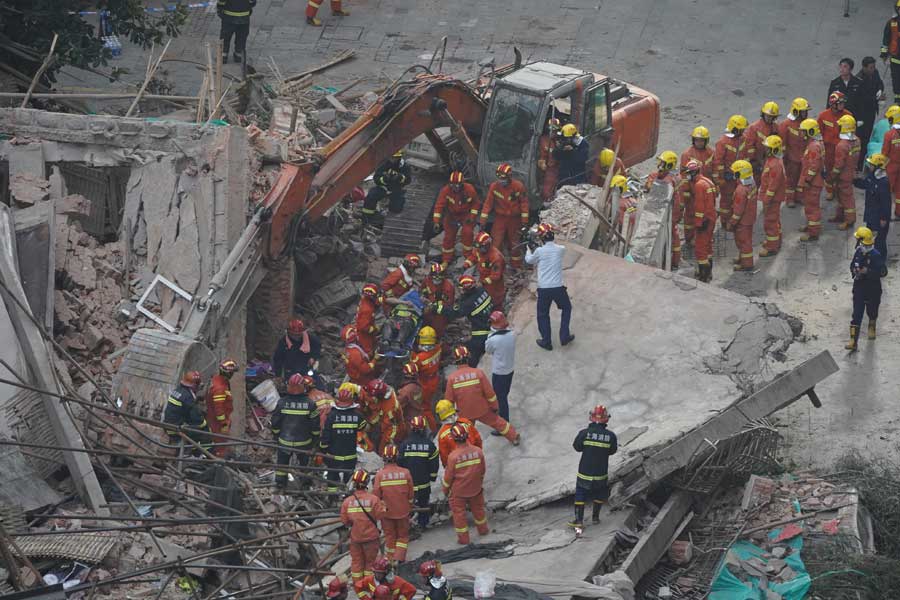 Local news site Kankanews.com said that over 20 people were trapped as a building collapsed in Changning district. It also reported that several motor vehicles are buried beneath the debris.