Senior official: Keep the people in mind
Share - WeChat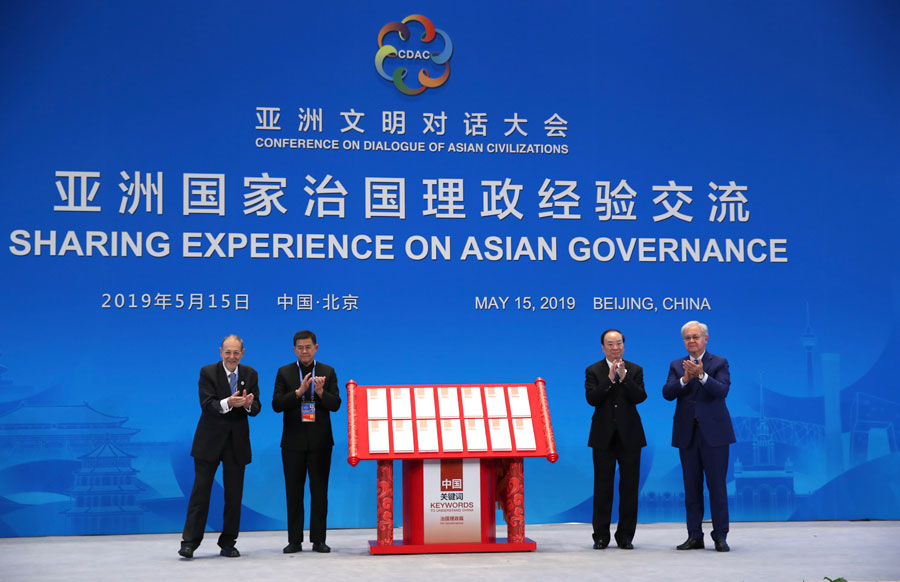 Principled reforms should be aimed at well-being without 'catering to applause'
China will continue deepening its reform and opening-up process while pursuing a path that suits the country's national conditions, Huang Kunming, a member of the Political Bureau of the Communist Party of China Central Committee, said on Wednesday.
Huang, who also heads the Publicity Department of the CPC Central Committee, highlighted the importance of the two issues to China's development at a forum on sharing experiences on Asian governance.
The forum was part of the Conference on Dialogue of Asian Civilizations.
While stressing that China's reforms will continue, Huang said they should be principled and grounded in the nation's development and people's well-being, not "accommodating one's taste or catering to applause".
Reforms have been the major driving force sparking innovation and creativity in societies, he said, adding that the drive to open up had also prompted the nation's development.
Speaking of China's experience in governance, Huang said it had adopted an approach centered on the people, which allowed development outcomes to benefit more of them.
Korn Dabbaransi, president of the Thai-Chinese Friendship Association and former deputy prime min-ister of Thailand, recalled his first visit to China in 1975 and hailed the great strides China had made over the past four decades.
He told participants at the forum that he was very impressed by China's efforts to relieve poverty. He said he believed China's aim to eradicate all poverty by 2020 will become a reality because of the nation's good governance.
Korn also called on Asian countries to "live together and prosper together side by side", to enhance exchanges and mutual understanding of diverse cultures and to build Asian civilizations without poverty.
Zheng Bijian, chairman of the China Institute for Innovation and Development Strategy, urged Asian countries to seize the strategic opportunities arising from the new round of economic globalization, and work together for a shared future.
Although trade protectionism and populism are on the rise, globalization is irreversible, Zheng said. He said the new round of economic globalization, propelled by IT applications and the full integration between maritime and inland economies, will push Asian countries to improve their productivity, innovation capabilities and governing capacity.
"Peaceful development is the most important thing China has gained during its rapid growth over the past 40 years," Zheng said, adding that this can also work for other Asian countries that want to quickly modernize while maintaining their independence.
Rashid Alimov, former secretary-general of the Shanghai Cooperation Organization, called for dialogue between different civilizations and said being on an equal footing will help build a better world.
Alimov commended the Belt and Road Initiative, saying it is a "project of civilizations" because it helps promote sustainable development around the world and has become a platform for international dialogue and cooperation.
Citing the challenges the world is facing, such as terrorism and extremism, he said active dialogue through various platforms, such as the SCO, will boost countries' cooperation in areas such as economy, culture and security.
Around 300 government officials, leaders of international organizations and academicians attended the forum.