Dialogue to bring civilizations closer
Share - WeChat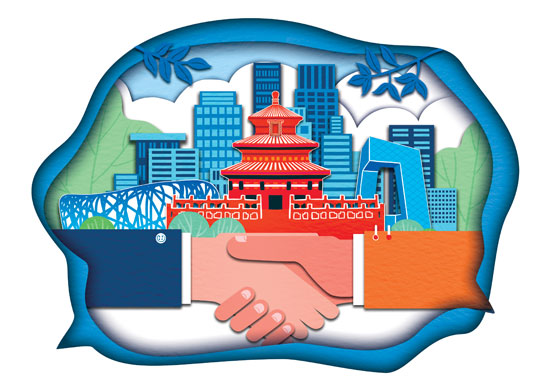 Editor's Note: Representatives from many countries and organizations are taking part in the weeklong Conference on Dialogue of Asian Civilizations that began in Beijing on Wednesday. Following are excerpts from the speeches delivered by nine of the participants:
Use Belt and Road Initiative to revive historical relations
Around 1,000 BC, Central Asia was predominantly an Aryan region that included the Eastern Iranian-speaking (or Persianspeaking) people, Bactrians, Sogdians and Khwarazmians and the semi-nomadic Sakas and Alans, who had a great influence on the history of the region. Since the ancient Silk Road passed through Central Asia and Iran, the two places played a key role in the historical and cultural activities of the times.
During the Tang Dynasty (618-907), a Zoroastrian community moved from Persia to Central Asia, especially to Sogdiana (now in Tajikistan), and then through the Silk Road to China. Studies show the Iranian poets and writers who moved to China merged into the Chinese civilization. As a result, some of their works in the Chinese language show Daoist and Buddhist influence.
Manichaeism, founded by Iranian prophet Mani (c. 216-276), was influential in Iran, Central Asia, India and China, as well as in Mesopotamia, Turkey, Byzantium and the Roman Empire. Manichaean intellectuals were good not only at establishing trade and cultural relations with other communities but also at facilitating dialogue among civilizations.
The discovery of thousands pieces of manuscripts in Turpan in Northwest China's Xinjiang Uygur autonomous region show that some Iranian merchants and intellectuals along with their families migrated to China in the 9th century. Later, they moved to Quanzhou in East China's Fujian province and established a peaceful community, as well as trade and cultural ties with many other communities in the city, which was also called Zaytun or (City of) Olives.
So there is a need to revive the historical peaceful ties and renew our cultural and commercial cooperation, for instance, through the Belt and Road Initiative.
Abolghasem Esmailpour, an expert in mythology and a professor at Shahid Beheshti University, Teheran
Dialogue can help develop openness and tolerance
The UNESCO constitution is a fantastic document which arms the international cultural institutions to hold dialogue among civilizations, especially a dialogue on how to look at others with tolerance and openness.
People in Asia respect cultural diversity, which is necessary to lay the foundation for dialogue among different Asian civilizations and cultures. They also believe that cultural diversity leads to mutual enrichment and creates a better atmosphere for dialogue in the future.
Thanks to decades of economic exchange, the Arab states and China have built a strong relationship. To expand this relationship to that between the Arab states and other Asian countries, we need not only political and economic arrangements led by governments but also more cultural and people-to-people exchanges.
And the Belt and Road Initiative can provide a solid platform for such exchanges and thus create a more conducive environment for a dialogue of Asian civilizations, which in turn can help develop mutual openness and tolerance.
Massoud Daher, a professor at Lebanese University
Most Viewed in 24 Hours
China Views