Xi calls for dialogue of civilizations
Share - WeChat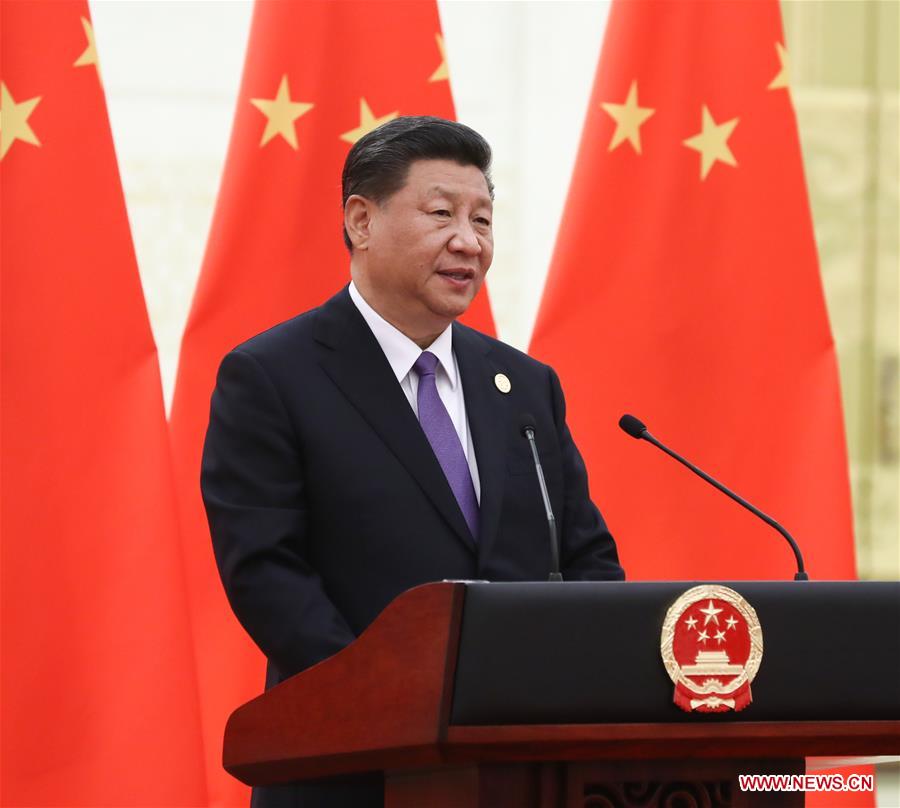 Event aims to promote cross-cultural exchanges, mutual understanding
In Beijing's leafy Olympic Green stands a stately edifice, the curve of whose facade, inspired by the eaves of ancient Chinese architecture, symbolizes a bridge connecting different cultures around the world.
The design of the building, the China National Convention Center, befits an event it is about to host on Wednesday - the Conference on Dialogue of Asian Civilizations initiated by President Xi Jinping to promote cross-civilizational exchanges and mutual learning across this culturally diverse continent and build an Asian community with a shared future.
Xi has long been a believer in, advocate of, model for and contributor to communications across civilizations. Whether during the time he lived in a cave dwelling in a remote village decades ago, or now standing at the helm of the world's most populous country, he maintains that exchanges and mutual learning among civilizations have empowered human progress as well as global peace and development.
That conviction matters even more today. In a world beleaguered by alarming anti-globalization sentiment, rising protectionism and unilateralism, mutating security threats and resurging assertions of a "clash of civilizations", cross-civilizational communication is of vital significance and in dire need of fresh vitality.
Teenager's passion
Over 40 years ago a teenager fascinated by Faust, a masterpiece of Western literature written by Johann Wolfgang von Goethe, walked over a dozen kilometers of bumpy and dusty country road just to borrow the book from a fellow student.
That teenager was Xi Jinping.
It was toward the end of the 1960s, an age of scarcity with little to read, when Xi was sent from Beijing to work as a farmer in a poverty-stricken village in northwestern China's Shaanxi province.
An avid reader of not only Chinese but also foreign literary works, Xi read whatever books he managed to find during his seven years there, from old Chinese textbooks to plays written by William Shakespeare.
"To be, or not to be," Xi pondered the question on the barren Loess Plateau, and eventually made up his mind to dedicate himself to serving his country and the people.
Like other young men, Xi would emulate his favorite protagonist in the books.
After reading What Is to Be Done?, a novel written by the Russian author Nikolai Chernyshevsky in which the leading character lives an ascetic life, even going so far as to sleep on a bed of nails to strengthen his will, Xi removed his cotton-padded mattress and chose to sleep directly on a brick bed so as to strengthen his own willpower.
"Art and literary works are the best way for different nations and peoples to understand and communicate with each other," Xi said in 2014 when recalling the books he had read during his youth.
President's endeavor
As one of the busiest globe-trotting world leaders, Xi misses no opportunity to promote mutual respect, understanding and learning among different cultures and civilizations wherever he goes.
"What's past is prologue," he quoted Shakespeare - whose works he first read 40 years ago - at the British Parliament during his state visit to the United Kingdom in the autumn of 2015, shedding light on his country's perspective on China-UK relations.
Ahead of his state visit to Italy in March, Xi, in a signed article published by leading Italian newspaper Corriere della Sera, told the story of Chinese emissary Gan Ying sent to search for Da Qin, the Chinese name of the Roman Empire, during the Eastern Han Dynasty (25-220).
Recalling the article, Francesco Sisci, a senior consultant for the Italian Minister of European Affairs, said he "saw in between the lines an amicable and wise leader".
Quoting pearls of wisdom from other cultures has been a hallmark of Xi's speeches on the global stage, which demonstrates not only his art of communication, but also how open the Chinese are toward other civilizations.
Yet his commitment goes far beyond that. His overseas trips have seen him attend cultural events, reach out to the local people and pay visits to landmarks of cultural heritage.
A photo from Xi's 2015 trip to the UK - which went viral - shows the president enjoying a pint of Greene King IPA beer in the company of his British host, then prime minister David Cameron, at a pub near London.
In a speech delivered in 2014 at the headquarters of the UN Educational, Scientific and Cultural Organization, Xi reeled off his tours of cultural heritage sites from Mexico's Chichen Itza, an archaeological site of the Maya civilization, to Uzbekistan's Samarkand, one of the oldest continuously inhabited cities in Central Asia.
"I have visited many places around the world," Xi said, adding "what I like most is exploring the varied civilizations of our five continents".
Statesman's vision
A highlight of Xi's trip to Italy emerged in the picturesque and culturally significant Villa Madama, where the president and Italian Prime Minister Giuseppe Conte witnessed the signing of a memorandum of understanding on bilateral cooperation within the framework of the Belt and Road Initiative.
The BRI, proposed by Xi in 2013, was inspired by one of the most renowned legacies of cross-civilizational communication in history - the Silk Road, a network of ancient trade routes linking China in the East with ancient Rome in the West and beyond.
A priority of Xi's signature initiative is to build a road connecting different civilizations where mutual respect will replace discrimination, exchanges will replace estrangement, and mutual learning will replace clashes.
The vision was reflected in Xi's speech at the UNESCO headquarters, during which he highlighted diversity, equality and inclusiveness among civilizations and the role cross-civilizational exchanges and mutual learning have played in fueling the progress of humanity.
The landmark address, published in May this year by Qiushi, one of the most influential periodicals in China, whose name means "seeking truth", is no less and even more relevant today, given the world's present challenges.
Among the global threats of security and climate change is the thinly veiled sense of superiority held by some in the West, who are in the midst of resurrecting an outdated "clash of civilizations" theory.
What fuels conflict and leads to armed conflict is the absence of real dialogue, said Helmy al-Namnam, a former Egyptian minister of culture, ahead of the Conference on Dialogue of Asian Civilizations.
"China's initiative to hold a major conference on the dialogue of civilizations in Asia is a very important move to pave the way for the language of dialogue over the language of conflict," he said.
(China Daily Global 05/15/2019 page4)