Belt, Road, exchanges feted during meeting with Greek leader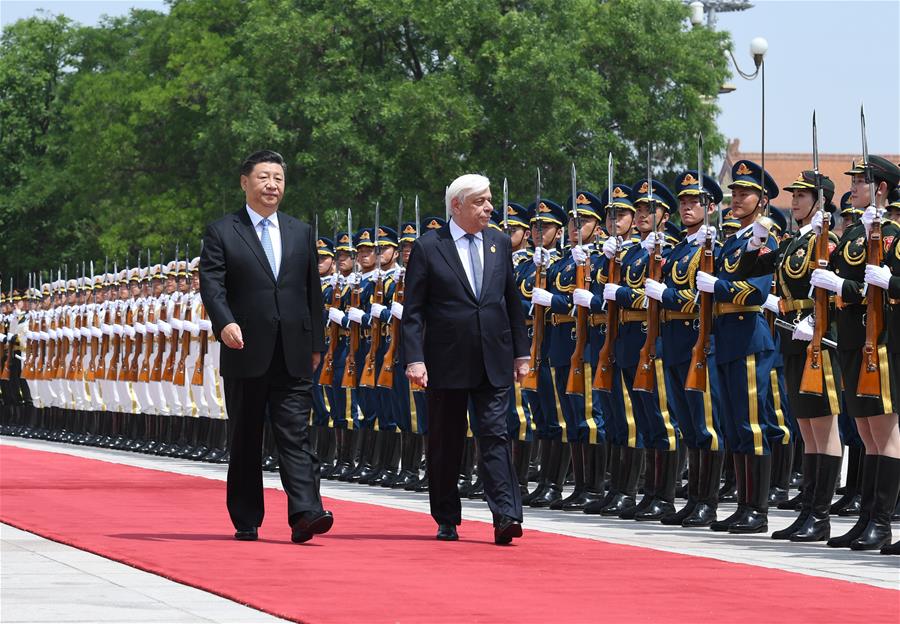 The Belt and Road Initiative and the proposal to build a community with a shared future for mankind are aimed at promoting exchanges among different civilizations and boosting cooperation between countries, President Xi Jinping said on Tuesday.
Xi made the remark while meeting with Greek President Prokopis Pavlopoulos at the Great Hall of the People in Beijing. Pavlopoulos is making a state visit to China from Sunday to Thursday. He will also attend the Conference on Dialogue of Asian Civilizations.
Noting that Greece is an ancient Western country, Xi said that the Greek president's visit has great significance to promoting exchanges of a cultural and civilizational nature between Asia and Europe.
Xi said that Chinese civilization has developed in an inclusive rather than exclusive manner since ancient times.
Through the Silk Road, Ancient Greece, Ancient Rome and Mediterranean culture, Buddhism, Christianity and Islam all entered China and blended and coexisted with Chinese culture, Xi said, adding that China has never had civilizational conflicts and religious wars with other nations.
When Chinese mariner, explorer, diplomat and admiral Zheng He led his powerful fleet to distant shores some 600 years ago, he brought silk, tea and porcelain rather than war to the world, and he did not occupy any land along his navigation route, Xi said.
Since ancient times, Chinese have considered national interests a top priority, Xi said, adding that the happiness of individuals is based on the country's unification and prosperity.
Chinese people have a high degree of unity and firm resolution in safeguarding national unity, interests and sovereignty, Xi said, adding that socialism with Chinese characteristics is a choice made by both history and the people.
He said China would like to enhance practical cooperation with Greece and jointly build the Belt and Road with the European nation.
Pavlopoulos said that the Conference on Dialogue of Asian Civilizations has great significance in promoting exchanges of different cultures. It is wrong for some people to advocate the theory of civilizational conflict, and different civilizations can learn from each other through dialogue and exchanges, he added.
He spoke highly of Xi's thought on world civilizations, the Belt and Road Initiative and the proposal of building a community with a shared future for mankind, adding that China has kept its promises in international affairs as a responsible major country.
The Greek people admire China's great developmental achievements, and Greece would like to take the historic opportunity of jointly building the Belt and Road and promote cooperation with China, he added.