National science week anticipates more than 330m visitors
Share - WeChat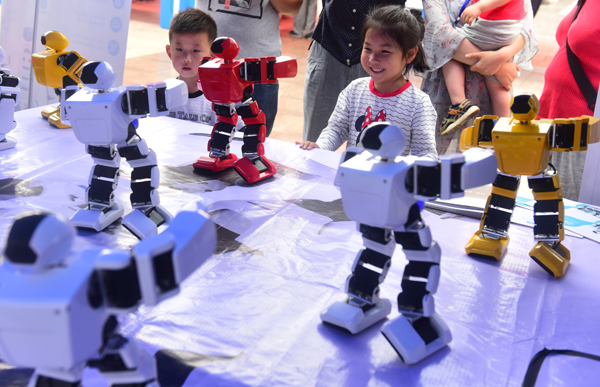 A record high of more than 330 million visitors are expected to participate in about 21,000 science events across China during its 19th National Science and Technology Week from May 19 to 26, said an official from the Ministry of Science and Technology on Tuesday.
More than 3,500 universities, research institutes and state key laboratories across China will host open days during the science week. Around 50,000 scientists will enter schools, villages, companies and military barracks to educate and interact directly with people.
The theme for this year is building a "strong scientific and technological nation" and "popularizing science to benefit the people". The opening ceremony will be held on Sunday at the Military Museum of the Chinese People's Revolution. The museum will also be the main venue which will host 410 exhibitions.
Li Yong, a senior official from the ministry's overseas intellectual resources cooperation department, said the science week this year will focus on China's recent major scientific achievements especially in space and aviation, artificial intelligence, biotech and other fields that have made significant impact on the nation's economy and the livelihoods of people.
"Many of these achievements have never been showcased, yet have profound impact on our society, such as new biomedicine and water pollution reduction methods," he said. "We want to let people experience how science and technology have improved our lives and helped lift people out of poverty."
This year marks the 70th birthday of China, and a crucial year to reach the goal of completely eliminating poverty by 2020, and Li said that "these topics will be prominently featured in this year's events".
Increasing scientific outreach is also a highlight of this year, as there are more events organized in the remote and rural parts of Gansu province and the Tibet autonomous region. More than 50 senior science popularizers from 13 countries, many of which are involved in the Belt and Road Initiative, will interact with their Chinese peers and the public during lectures and exhibitions throughout the science week.