Time to reflect
Share - WeChat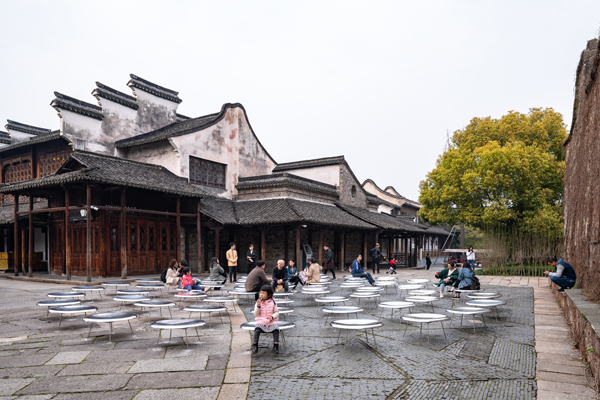 A scenic water town famed for its internet summit and theater festival, Wuzhen now aims to be a global hub for contemporary art exhibitions, Fang Aiqing reports.
After gaining global recognition for hosting the annual World Internet Conference and Wuzhen Theater Festival, the time is ripe for the water town in East China's Zhejiang province to explore its relationship with the world of contemporary art.
Running through June 30, artworks being shown at the second Wuzhen Contemporary Art Exhibition by big names like Anish Kapoor, Julian Opie, Gregor Schneider and Kazuyo Sejima are adding a fresh cultural dimension to the scenic ancient town.
Under the theme Now Is the Time, 90 works by 60 artists from 23 countries and regions-from sculptures, installations, performance art, images and videos to pieces driven by light, sound and smell-are exhibited in sites scattered between the town's lush trees, calm waters and gray-tiled buildings, and even in the renovated spaces of a traditional rice barn and a silk factory.
"The exhibition presents a current picture of contemporary art and raises questions for the artists and visitors to reflect on the anxiety and insecurity that the complex reality has brought us," says chief curator Feng Boyi.
Although the lineup may not be quite as illustrious as Wuzhen's first contemporary art exhibition three years ago that displayed the works of Damien Hirst, Ann Hamilton and Marina Abramovic, Feng believes the diversity of the artists and range of their works have been enriched this year.