BRI prompts closer global scientific cooperation
Share - WeChat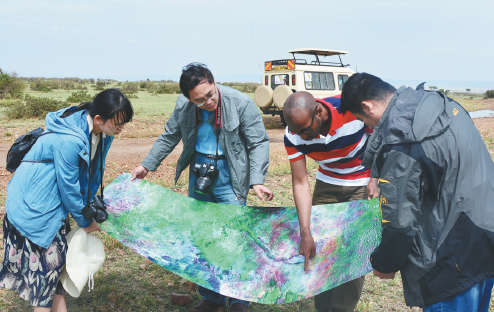 When botanist Wang Qingfeng first visited Kenya 18 years ago, he was fascinated by the fact that many locals had snow-white teeth, but they did not use fancy dental products.
The secret was found in twigs, known as miswak, from the Salvadora persica tree. When chewed, the miswak splits into soft, bristly fibers and releases natural, antimicrobial compounds that can protect the mouth from oral disease, according to the World Health Organization.
Intrigued, Wang and his team worked with African scientists to extract the active ingredients and add them to toothpastes, which are now being manufactured by local companies, said Wang, director of the Sino-Africa Joint Research Center, Chinese Academy of Sciences, in Kenya.
The center, established in 2013, has helped transform many local plants into medicinal teas, essential oils and other products, thus improving their potency and market value. Growing the plants for industrial use has raised local farmers' living standards.
The center, in Juja, Kiambu county, is one of 10 joint overseas research and education facilities CAS has launched with foreign partners. They aim to extend scientific cooperation, talent training and innovation capability for China and countries participating in the Belt and Road Initiative.
Many BRI countries are facing developmental obstacles, including climate change, water and food security, public health, ecological protection and other challenges, Bai Chunli, president of CAS, said earlier this month.
In response, CAS launched the joint centers overseas to serve the needs of host countries and act as collaborative platforms to overcome key obstacles via scientific methods, expertise and tools, he said.
For example, the center in Sri Lanka focuses on water management, while the one in Myanmar works to preserve biodiversity, and the facility in Sao Paulo, Brazil, researches weather and space.
Over the past six years, CAS has invested more than 1.8 billion yuan ($269 million) into the BRI and launched more than 100 scientific projects to make the initiatives greener and more sustainable, Bai said.