Li, Austrian leader agree on boosting cooperation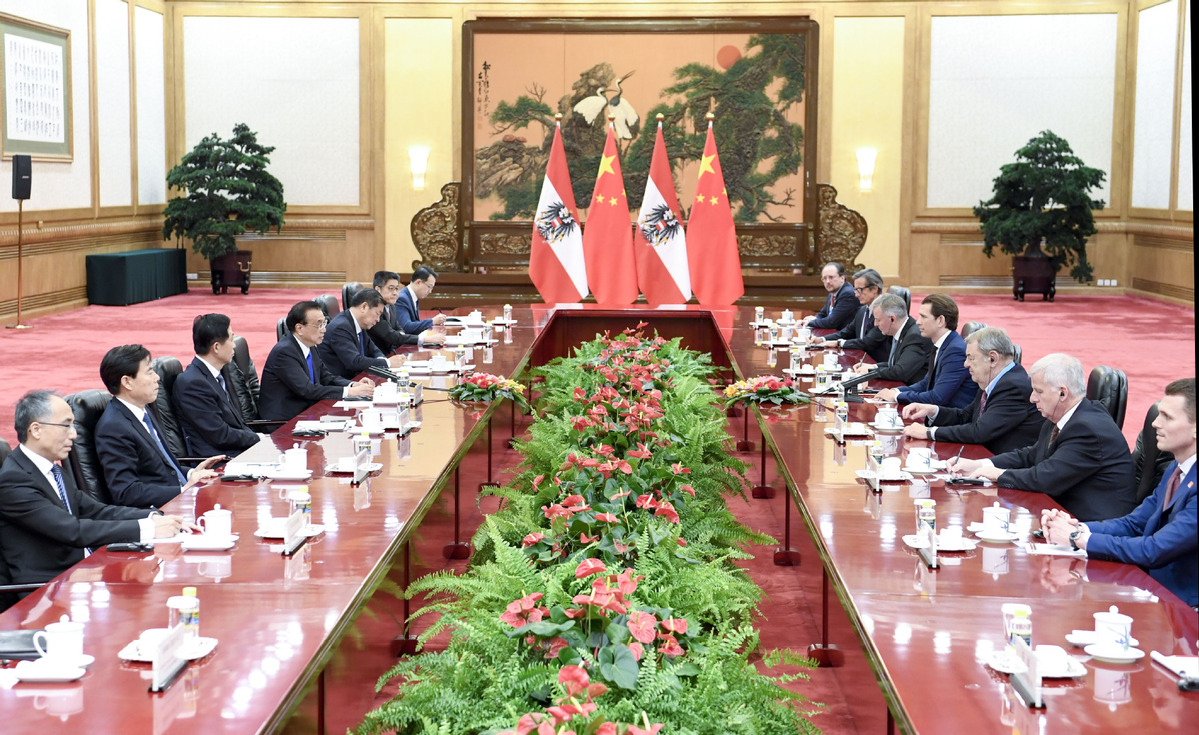 Premier Li Keqiang and visiting Austrian Chancellor Sebastian Kurz witnessed the signing of six agreements between China and Austria on Sunday to boost cooperation in various areas-such as digital economy, the financial sector and technological research.
The two countries will also expand cooperation in the protection of giant pandas and in cultural relic exhibitions, under deals signed at the Great Hall of the People. A memorandum of understanding was also inked for the Austrian government to issue panda bonds, a renminbi-denominated bond by a non-Chinese issuer to be sold in China.
Before the signing ceremony, the two leaders met as part of Kurz's official visit to China, during which he also attended the Second Belt and Road Forum for International Cooperation last week.
"Last year saw a huge increase in bilateral trade, and Austrian investment in China went up by more than 50 percent year-on-year in 2018. It showed the great potential of pragmatic cooperation between the two countries," Li said during their meeting.
"Austria is also an important member of the European Union. We would like to respect each other's core interests and major concerns based on mutual respect and equality," Li told Kurz. "We should also expand the areas for pragmatic cooperation, and bilateral ties are expected to help strengthen China's cooperation with the EU."
The premier also pointed out the enormous potential of bilateral cooperation in advanced manufacturing, agriculture, tourism and other fields. China, with its huge market, will continue opening-up with a commitment to building a marketized, law-based and internationalized business environment, he said.
China is ready to increase flights between Chinese and Austrian cities and to expand exchanges in giant panda research and winter sports, Li said.
China is a strategic partner for Austria, and bilateral ties have deepened with more frequent personnel exchanges, said Kurz, who, at the age of 32, is one of the world's youngest heads of government.
The Austrian chancellor congratulated China on the success of the Second Belt and Road Forum for International Cooperation, which concluded on Saturday. The European country is ready to deepen cooperation with China in trade, agriculture, tourism and winter sports, he said.
Kurz came to China to participate in the Boao Forum for Asia in Hainan province in April last year.
China is Austria's fifth-largest trading partner. As of August, China had approved 1,288 projects for Austrian investment, which then stood at $2.08 billion.