TCM prompts more visits from the neighbors
Share - WeChat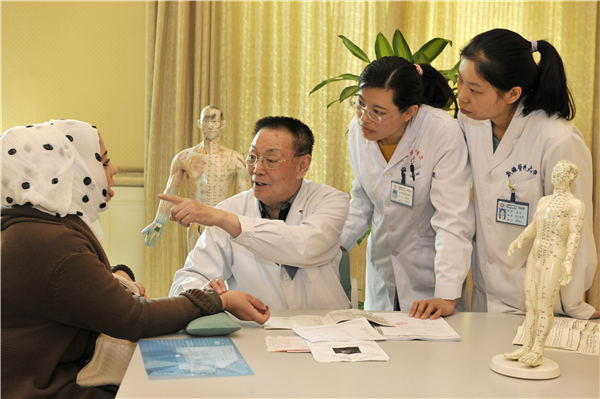 A growing number of people from nearby countries and further afield are venturing to China for treatment. Zhao Xinying, Aybek Askhar and Mao Weihua report from Urumqi, Xinjiang Uygur autonomous region.
Editor's note: This is the third in a series of stories focusing on the Xinjiang Uygur autonomous region, looking at developments in the economy, the cultural and business sectors, and poverty alleviation measures.
For the past decade, Gabidin Khalinov has visited Urumqi, capital of the Xinjiang Uygur autonomous region, at least once a year for a physical examination.
Born in 1993, the young Kazakhstan native was diagnosed with leukemia when he was 5 years old.
However, medical services in his country were not developed enough to cure his disease, so local doctors suggested that he should travel to Germany, Japan or Xinjiang for treatment.
"It was too far and too expensive to seek treatment in Germany or Japan, so my family chose the last option and brought me to Urumqi in 2002," Khalinov recalled.
At the Hospital of Traditional Chinese Medicine of the Xinjiang Uygur autonomous region, one of the region's best public medical institutions, he started a long-term battle against the disease with a combined therapy of TCM and Western medicine.
"The disease was controlled after five years, and I only needed to have regular examinations afterward," said Khalinov, who lives in Nur-Sultan, Kazakhstan's capital.
"Recently, my doctors in Urumqi told me that there's no need to come any more because I am cured."
He is just one of thousands of people from overseas who consult TCM practitioners in Xinjiang every year.
In the past four years, at least 20,000 non-Chinese have sought medical treatment in the five public hospitals in the region that provide services for international patients, according to the Health Commission of the Xinjiang Uygur autonomous region.
Most came from Central Asian countries such as Kazakhstan, Tajikistan and Kyrgyzstan, which border China through Xinjiang, the commission said.
Located in the far west, Xinjiang borders eight countries - the largest number among all of China's provinces and regions - and has been recognized as a core area of the Silk Road Economic Belt since the Belt and Road Initiative was proposed in 2013.
As a result of Xinjiang's location and relatively high level of medical expertise, local authorities have worked to build the region into an international medical service center for neighboring countries.
Most Popular