Cross-dressing sensation marches on despite controversies
Share - WeChat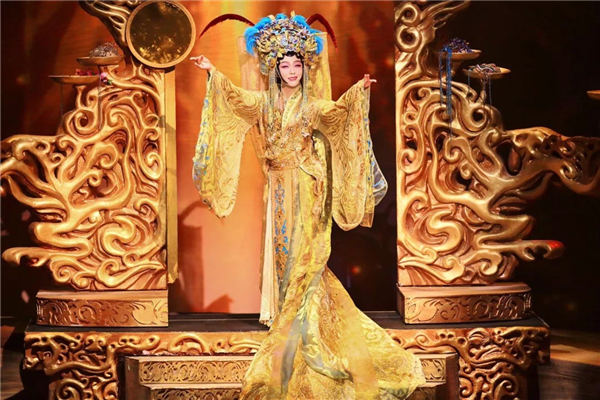 Clad in a long red cape and white robe, Chinese singer Li Yugang showed up at a five-star hotel in downtown Beijing recently. With delicate makeup and his short hair neatly combed back, he walked onto the stage, holding a traditional Chinese musical instrument, pipa, a four-stringed, pear-shaped lute.
He was ready to showcase the classic image of Wang Zhaojun, an ancient Chinese beauty from the Han Dynasty (206 BC-AD 220).
The 40-year-old singer has come a long way since the day he made a name for himself through his unique cross-dressing performances. Now, he is known for playing female roles and his performances combine traditional Peking Opera and pop music.
In his upcoming dance drama, Lady Zhaojun, Li will portray the legendary beauty, who volunteered to marry the ruler of a powerful nomadic group known as the Xiongnu on the then-border of northern China, in exchange for peaceful relations with the Han Dynasty.
As part of the ongoing 19th Meet in Beijing Arts Festival, the capital's largest annual celebration of dance, music, drama and art, Lady Zhaojun will be staged from Friday to Wednesday at the Tianqiao Performing Arts Center. It will then tour internationally this year, going to the United States, Canada and countries involved in the Belt and Road Initiative, including Thailand and Singapore, according to Wang Xiuqin, general manager of the China Arts and Entertainment Group, the festival's organizer.
"Wang Zhaojun is known as one of the four legendary beauties of ancient China. She is also regarded as a symbol of peace and for bridging cultures," says Li. "The dance drama combines traditional Chinese music and dancing. And when it is staged abroad, I believe it will help the audience get closer to Chinese culture."
On March 6, the former prime minister of Italy, Massimo D'Alema, who is the honorary chairman of Silk Road Cities Alliance, named Li as Silk Road Cultural Ambassador.
D'Alema, who will be attending the ongoing second Belt and Road Forum for International Cooperation in Beijing, also invited Li to bring the dance drama, Lady Zhaojun, to Italy next year, since 2020 marks the 50th anniversary of Sino-Italian diplomatic relations.
Lady Zhaojun premiered in Beijing with four shows in 2015, with Li as both the lead actor and the director.
The creative team includes renowned Taiwan songwriter Vincent Fang and designer Tim Yip, the winner of the Oscar for best art direction and costume design in 2000 for his collaboration with director Ang Lee on Crouching Tiger, Hidden Dragon.
Most Popular