Fans Marvel at epic Avengers climax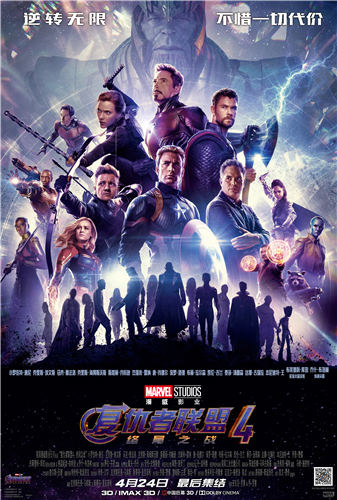 The latest installment of the Disney-owned superhero franchise is set to smash box-office records.
As the clock struck midnight on Tuesday, it signaled the start of a carnival for Marvel fans.
More than 2.1 million of them flooded to thousands of cinemas across China for the first batch of advance screenings of Avengers: Endgame, the epic conclusion of the current phase of the 11-year-long superhero franchise, which thus far has consisted of 22 films.
As of Wednesday, the three-hour epic had hauled in more than 1.07 billion yuan ($159 million), including those from advanced ticket sales for the next few days' screenings. More than 90 percent of the country's 60,000-plus screens are scheduled to play the film in the following week, according to box-office tracker Maoyan.
The film also set a new opening day record (including midnight shows) for IMAX China, raking in an estimated 93 million yuan - surpassing the previous record-holder Avengers: Infinity War by 82 percent.
IMAX attendance represented approximately 13 percent of the film's opening day gross in the country.
On the country's most popular review aggregator, Douban, the star-studded blockbuster has already racked up a score of 9.2 points out of 10, the highest of all the Avengers films so far.
Definitely no spoilers are allowed. A number of fans said on their social media platforms that they will stay offline before they watch the film.
Endgame may be the dramatic climax for several of Marvel's current crop of box-office heroes, but is it likely that, given the country's huge fan base, we will see a Chinese superhero stand shoulder-to-shoulder with a new crop of Avengers in Marvel cinematic universe anytime soon?