Belt and Road Initiative achieves closer people-to-people ties
Share - WeChat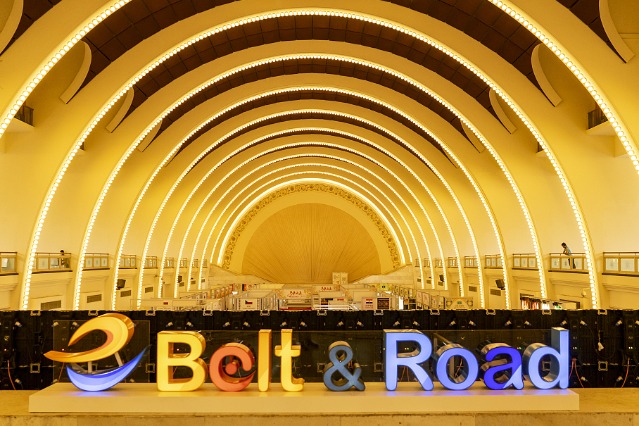 The Belt and Road (B&R) countries have carried out diplomatic activities and cultural exchanges of various forms in wide fields over the past five years or so, enhancing mutual understanding and recognition and laying a solid cultural foundation for furthering the initiative, according to a report released Monday on the Belt and Road Initiative (BRI)'s progress, contributions and prospects.
China and other B&R countries have conducted diverse forms of cultural exchange, including hosting arts festivals, film festivals, music festivals, cultural relics exhibitions, and book fairs. They have jointly launched new publishing, radio, film and television programs, as well as translating and introducing each other's media programs, said the report.
The Silk Road International League of Theaters, Silk Road International Museum Alliance, Network of Silk Road Arts Festivals, Silk Road International Library Alliance, and Silk Road International Alliance of Art Museums and Galleries have been established.
China, CEE countries, ASEAN countries, Russia, Nepal, Greece, Egypt, and South Africa have hosted activities to celebrate the cultures of B&R countries in different years, and developed about a dozen cultural exchange brands such as the "Silk Road Tour" and "Chinese/African Cultures in Focus". Major cultural festivals and expos have been launched such as the Silk Road (Dunhuang) International Cultural Expo, Silk Road International Arts Festival, and Maritime Silk Road International Arts Festival, and 17 Chinese culture centers have been set up in B&R countries.
China has signed cooperation agreements on the protection of cultural heritage with Indonesia, Myanmar, Serbia, Singapore, and Saudi Arabia. Through a combined effort from China, Kazakhstan and Kyrgyzstan, Silk Roads: The Routes Network of Chang'an-Tian Shan Corridor has become a UNESCO World Heritage site. Steady progress has been made in the Belt and Road News Alliance. The Silk Road NGO Cooperation Network, with 310 members, has become an important platform for nongovernmental cooperation.
Fruitful results in education and training have been achieved. The Chinese Government Scholarship - Silk Road Program has been set up, and China has signed agreements with 24 B&R countries on the mutual recognition of higher education degrees. In 2017, 38,700 students from other B&R countries studied in China on scholarships provided by the Chinese government, accounting for 66 percent of all students receiving such scholarships, according to the report.
China has expanded cooperation with other B&R countries in tourism. China has held joint year of tourism with many other B&R countries, initiating cooperation mechanisms such as the Silk Road Tourism Promotion Union, Maritime Silk Road Tourism Promotion Alliance, and Tea Road International Tourism Alliance. China has signed mutual visa exemption agreements for different types of passport with 57 B&R countries, and concluded 19 agreements or arrangements to streamline visa application procedures with 15 countries. In 2018 outbound Chinese tourists numbered 150 million, and inbound foreign tourists numbered 30.54 million. Russia, Myanmar, Vietnam, Mongolia, Malaysia, the Philippines, and Singapore were the main sources of tourists for China.
Deeper cooperation in health and medicine has been achieved between China and other B&R countries. Since the first Belt and Road Forum for International Cooperation, China has signed 56 agreements on cooperation in the health sector with countries such as Mongolia and Afghanistan, international organizations such as the World Health Organization, and NGOs such as the Bill & Melinda Gates Foundation, said the report.
Ongoing effort has been made in disaster relief, assistance, and poverty alleviation. Since the first Belt and Road Forum for International Cooperation, China has provided 2 billion yuan (298 million U.S. dollars) in emergency food assistance to developing countries participating in the initiative, injected an additional 1 billion U.S. dollars to the South-South Cooperation Assistance Fund and implemented 100 Happy Home Projects, 100 Anti-Poverty Projects, and 100 Health Recovery Projects.
The report, prepared by the office of the leading group for promoting the BRI, was released ahead of the second Belt and Road Forum for International Cooperation to be held from April 25 to 27 in Beijing.