Lego kits bring fun to Chinese classrooms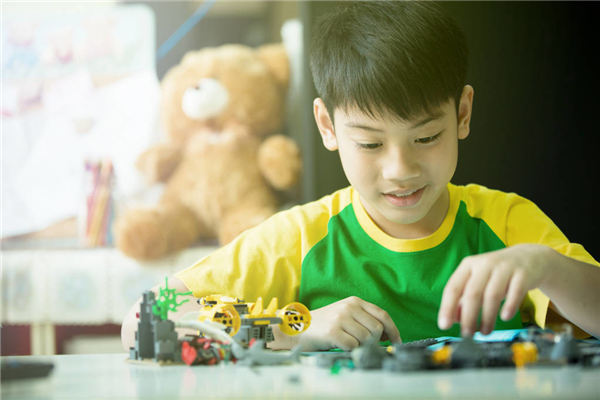 Lego, the world's leading toy maker, has teamed up with a Chinese publisher, to create a set of "class-kits" for Chinese primary and middle schools.
The company has designed the "class-kits" to encourage science, technology, engineering, arts and math, known as STEAM classes, together with the publishing house of East China Normal University based in Shanghai.
"We did a survey in China, which shows over 90 percent of Chinese parents believe their kids are burdened by school education, and over 85 percent of teachers understand their students are losing self-confidence due to pressure. That's why we are moving forward with this," says Esben Stark Jorgensen, Lego Education's global president, who demonstrated the kits at a recent event.
In the past 20 years, the Danish toy company has enjoyed fast growth in China, and has expanded its business to more cities and on e-commerce, digital and physical platforms as the market grows.
Paw Max Andersen, designer of the classroom kits, says: "The key words of my design process are curiosity, technology, environment, class management and fun. Hands-on learning is the best way to learn."
He believes that playing with robots can inspire students and boost their confidence. The toys and related lessons can change the classroom atmosphere.
Wang Jian, vice-president of the university's publishing house, says the company is optimistic about the Chinese STEAM education market, as "fun-study" is making inroads into schools.
Meanwhile, the government is encouraging schools to introduce more interesting and interactive STEAM classes, instead of exam-oriented education.
Wang says the sets hail cross-disciplinary learning as opposed to traditional school courses, which divide subjects scrupulously. Also, Lego has customized each lesson for the 45-minute standard Chinese class.
Zhu Tianling, a 41-year-old local lawyer and mother of three, says: "I'm sure my son will love the Lego class in school, but I don't think it can alleviate students' stress and anxiety that much. Educational reform still has a long way to go."
Xinhua
(China Daily 04/24/2019 page20)