Woodblock printing writes a new chapter
Share - WeChat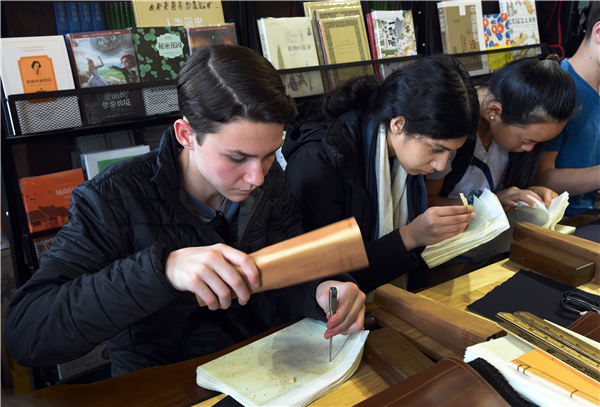 Freedom in a bound world
Jiang's workshop, Zhuyu Shanfang (literally "boiling-rain study") was founded in 2001, and three bookbinding craftsmen and a woodblock carving artisan now work there.
Zhao Yishen, 33, does the engraving on the woodblocks, and the papers are bound into books with thread after printing, by three other craftsmen.
Stitched bookbinding is a traditional Chinese method originating in the Song Dynasty. It involves punching holes on the spine and stitching the book using a silk cord. The knot is tied and concealed in the spine.
Ancient books employed complex binding skills and procedures, and the different forms of binding include butterfly, spider's web or double-leaf patterns, according to Sun, who joined the workshop in 2015.
"All four of us quit our previous jobs to learn how to make these traditional books. My other three colleagues were a doctor, an engineer, and a law-major graduate," says Sun, who had worked in a securities company. "We all made 'handsome salaries', but shared a passion for woodblock printing and ancient books, so we quit to work as artisans."
Sun quit her job in 2013 and took an adult-learning college-level course on ancient book repairs held by the National Library of China. In her studies that lasted two and a half years, she went to school each night from Monday to Thursday and all day on Saturday to learn the skills.
According to her, there are a large number of ancient books that need to be repaired, but very few job positions.
Besides binding books made with woodblock printing, Sun and her colleagues also make notebooks and journals to sell at the bookstore. These exquisite handmade products have won over many young buyers.
"I feel happy and relaxed working as a craftsman, especially as I don't have to deal with figures and sit in front of a computer all day long any more, and I don't even need a laptop," says Sun. "Now I'm just dealing with rice paper."
Course with a mission
A trip by Jiang in March to a village in Ninghua county, Fujian province proved a revelation and made them determined to help revive the craft.
"I took a five-hour flight and a two-hour drive up a mountain road to reach a town that used to have more than 100 factories making quality paper for thread-bound books in the 1970s. But now, there is only one factory left," says Jiang.
Ninghua was once the center for making handmade yukou paper. The craft and technology behind the production of the paper was invented by Cai Lun of the Eastern Han Dynasty (25-220). The yukou paper (which literally means "jade button"), made of tender bamboo pulp, is pliable and tough and can remain intact for hundreds of years.
Jiang is sad about the decline of the papermaking industry in the town and blames the migration of the young workers to urban areas as the key reason.
"There has to be a sustainable way to support the factory to keep running, besides a drive to sell bigger volumes of the paper they make," says Jiang.
The course in stitched bookbinding started in March, and the Sidwell students are the first group to take it. A two-hour session costs 360 yuan ($54) for each student and is held at weekends at the bookstore in Tianqiao, Beijing.
All three craftsmen in the workshop prepare the materials and tools, and take turns to teach. The group plans to introduce more complex and challenging courses in the future.
Most Popular