Courts rise to meet challenge of IPR cases
Share - WeChat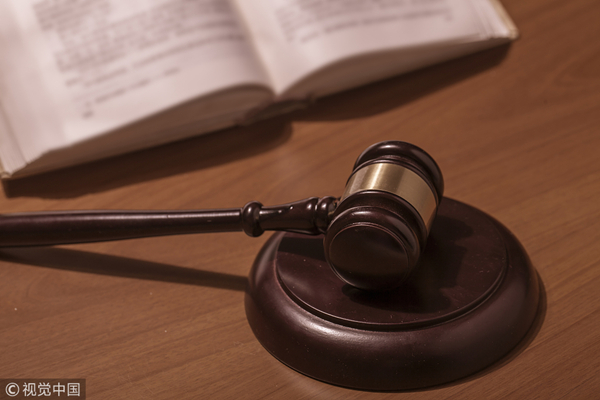 Tribunals, technical investigators will play increasingly prominent roles
The number of intellectual property rights cases handled by Chinese courts increased significantly in 2018, showing that the country is increasingly aware of its importance in pursuing high-quality economic development, the Supreme People's Court said on Monday in a white paper.
Courts at all levels accepted a total of 334,951 IPR cases in 2018, up by 41.2 percent from the previous year, according to the court, which released the white paper - Intellectual Property Protection by Chinese Courts in 2018 - in Hefei, Anhui province.
Jiangsu, Zhejiang and Guangdong provinces, together with Beijing and Shanghai, remain the top contributors of cases, with the number of first-instance civil cases accepted by local courts reaching a combined 185,337 and covering 65.4 percent of the national total for IPR.
The country's central and western regions saw explosive year-on-year increases, with annual growth in Gansu, Guizhou and Qinghai provinces of 290 percent, 157 percent and 155 percent, respectively.
The growth is inseparable from the regions' economic strengths and potential, according to Li Shunde, a senior intellectual property researcher at the Chinese Academy of Social Sciences.
Internet-related IPR cases have been surging in recent years because of the rapid development of the sector, he said.
Of the 10 typical IPR cases last year that were released by the top court on Monday, three were internet-related.
"Efficiency in settling cases also improved significantly in 2018," said Song Xiaoming, head of the court's IPR tribunal.
Courts settled 319,651 cases during the year, including some they had accepted previously, Song said.
Some of the settled cases had attracted enormous attention at home and abroad. For example, in handling a dispute between Chinese and foreign companies, the Beijing Intellectual Property Court concluded a design patent of Chinese automaker Jiangling Motors Group was invalid.
Jaguar Land Rover Automotive said the LandWind X7 SUV manufactured by Jiangling subsidiary LandWind was an unauthorized imitation of its Range Rover Evoque.
"Technology-based disputes involving findings of complex technological facts or other new types of disputes are increasingly emerging, bringing new adjudication challenges for handling IPR cases," Song said.
One of the measures taken by the supreme court for improving efficiency is its approval of 19 tribunals to specialize in IPR-related cases across the country.
"The courts, based in 19 cities, including Hefei, are designed to be responsible for handling not only local IPR cases but also those from neighboring regions," Song said.
In 2014, the supreme court released a guideline to introduce technical investigators into the procedure of judging IPR cases. An earlier document released by the local court in Hefei last year said it would recruit both full-time and part-time technical investigators.
More full-time technical investigators are expected to be recruited for IPR cases in the future, researcher Li said.