Hotel guests get sporting chance to meet experts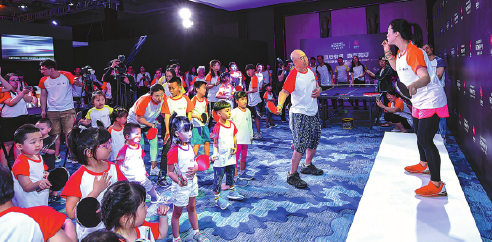 Marriott International hosting series of experiences where celebrities offer advice, give lessons
The essence of travel not only lies in picturesque scenery, local food and culture, but, more importantly, the unforgettable memories, emotions and adventures you encounter in every moment. These become an irreplaceable part of your life.
Marriott International is striving to create such memorable moments for families traveling in China. They are enabling younger guests to discover their own world in creative and exciting ways through its new plan, Marriott Bonvoy.
One of the most sought-after experiences is the Marriott Bonvoy Master Class, which made its debut earlier this month in China at the JW Marriott Hotel Sanya Dadonghai Bay in Hainan province. It features former national table tennis player and Grand Slam winner Wang Nan and Ping Pong Hut, an organization that promotes interest in the sport.
In collaboration with the Ping Pong Hut, founded by Wang in 2016, Marriott Bonvoy is launching a series of family experiences. They combine travel and sports for its members, with a focus on table tennis, sporting culture and exclusive experiences.
"In China, more and more travelers are enjoying travel with their families, exploring and learning new things," said Lawrence Ng, vice-president of sales and marketing at Marriott International for Greater China. "The debut of the Marriott Bonvoy Master Class in China will let families add a new dimension to their travels - combining vacations with their passion for sports."
Through face-to-face communication with the table tennis master, the Marriott Bonvoy Master Class aims to provide children and their families with professional training, new ideas and enlightenment. It will do this through interactive activities to create unforgettable experiences, he said.
"In the near future, we will be bringing more master classes to the China market, featuring the superstars of sports, cuisine, entertainment and lifestyle," he added.
wangjinhui@chinadaily.com.cn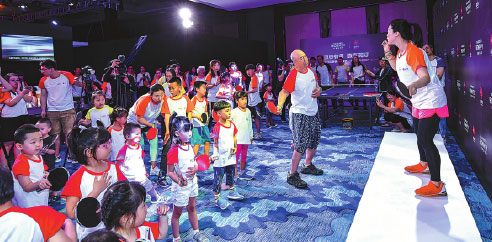 Former table tennis champion Wang Nan (right) coaches children in the sport during the Marriott Bonvoy Master Class in Sanya, Hainan province earlier this month.Provided To China Daily

(China Daily 04/20/2019 page6)
`