Tiger's still making people lots of money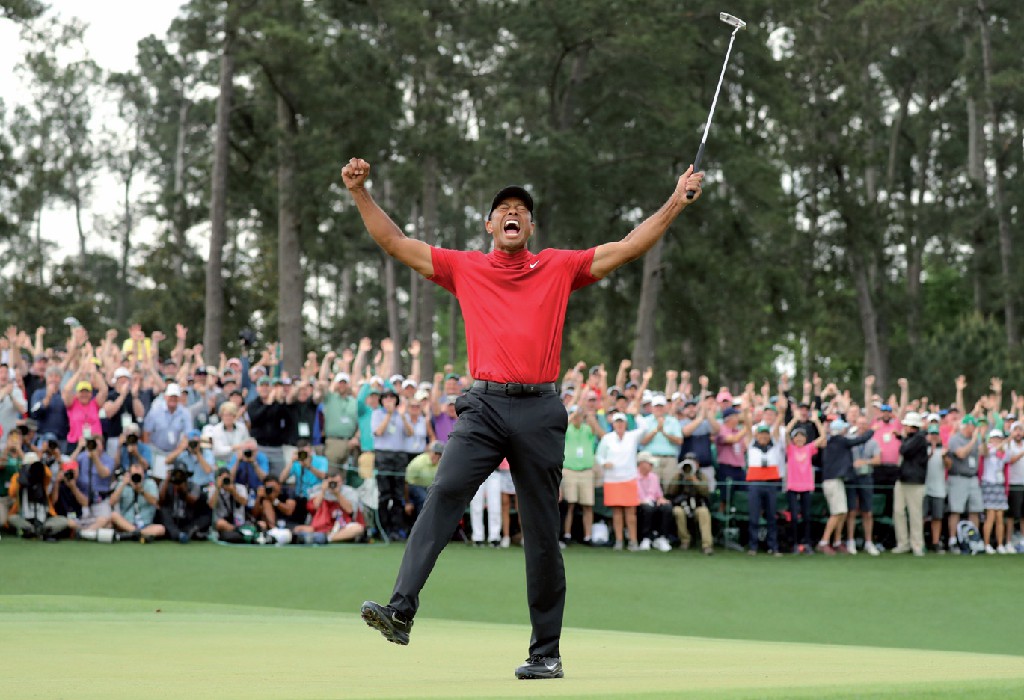 If the Masters is a golf tournament like no other, then its 2019 champion Tiger Woods is an endorser and ratings-booster like no other.
Woods won his fifth Masters green jacket on Sunday, thrilling golf fans and casual observers. What made the story more compelling is that Woods, 43, had to overcome physical ailments and numerous off-course troubles.
As Woods strolled majestically down the 18th fairway at Augusta National in Georgia on Sunday, he seemed elevated by the sheer will of the gallery and the many millions watching on television and electronic devices. If there is one thing Americans like in particular, it's a good comeback story.
And if there's one thing corporations like, it's endorsers they can bank on.
Woods' longtime sponsor Nike rushed out an ad for social media trumpeting the victory.
"It's crazy to think a 43-year old who has experienced every high and every low and has just won his 15th major is chasing the same dream as a 3-year old," said the ad. It then showed a 3-year old Woods saying, "I'm going to beat Jack Nicklaus."
Nicklaus, who said on Sunday that Woods' win was great for golf, is the all-time leader in major championships, with 18 to Woods' 15.
It had been 14 years since Woods last won a Masters, and 11 years since his last victory in a major tournament.
"Tiger sells golf," says Eric Smallwood, president of Apex Marketing Group Inc.
Apex calculated that Nike earned $22.5 million worth of brand exposure just from Woods' final round, with Nike's swoosh logo featured on his hat, red shirt, pants and shoes.
Bridgestone Golf, whose logo was on the golf balls Woods used, said its website traffic soared. The PGA Tour Superstore, which sells golf equipment online, said sales rose over the weekend by 50 percent compared with last year.
CBS, which broadcasts the Masters, got a ratings boost. The final round was the highest-rated morning golf broadcast since 1986.
"Historically, events where Tiger Woods is on leaderboards on Sunday generated 30 to 40 percent higher ratings in the United States for those tournaments," said Neal Pilson, president of Pilson Communications and former president of CBS Sports.
Woods was a 20-year-old golf prodigy at Stanford University when he turned pro in 1996. Less than a year later, he was ranked No 1 in the world. He signed a five-year, $40 million deal with Nike, which boosted the sport's popularity.
In 2009, after stories of marriage infidelities, Woods lost endorsement deals with AT&T Inc and Accenture Plc. Sponsors such as Procter & Gamble Co's Gillette and Berkshire Hathaway Inc's NetJets honored their contracts with Woods, but stopped using him in marketing.
Following four back surgeries, Woods had other trouble in 2017, when he was arrested for driving under the influence; he pleaded guilty to reckless driving and entered a program for first-time offenders.
In 2018, Woods made a run at the British Open, where ironically, Italy's Francesco Molinari captured the trophy. It was Molinari who had led heading into the final round of the Masters on Sunday whom Woods overtook.
Woods could expect to sign a new deal with Nike worth more than $200 million over six years, according to The Daily Telegraph of London.
"In sports you have heroes, villains and underdogs," said Benjamin Hordell, founder of DXagency, a digital marketing firm. "Tiger has lived all of it. That's amazing from a storytelling perspective."
According to Forbes, Woods' net worth in 2019 was estimated at $800 million, but that number is expected to rise after the Masters win, which paid Woods $2.07 million.
The Masters also was a good payday for one bettor (not for a Las Vegas bookmaker) in particular, as a Wisconsin man took home $1.275 million on his $85,000 bet on Woods.
James Adducci's winning bet was the largest golf payout ever for sportsbook operator William Hill US. Adducci, 39, said he made the bet that carried 14-1 odds because he believed Woods would win because his children were watching.
"In that moment that he won, and I won, what was the most special for me, and it's why I placed the bet in the first place, was just seeing him share that victory with his kids," said Adducci.
Reuters and The Associated Press contributed to this story.