Over the top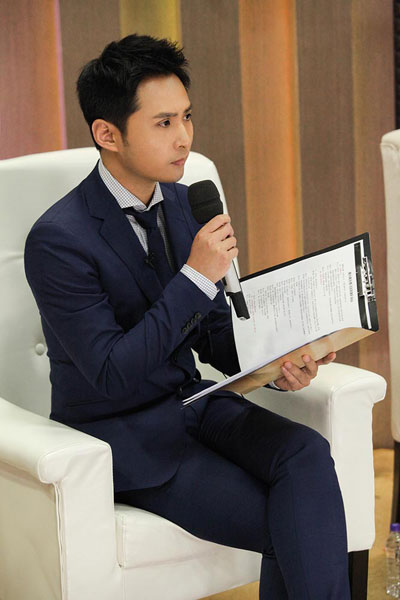 As the Chinese entertainment industry booms, actors have enjoyed unprecedented attention. However, the lesser-seen voice actors are the hidden forces that overdub and add flavour to their performances. In 2011, the TV drama Empresses in the Palace, which focused on the struggles of concubines during the Qing Dynasty, was a massive hit – and the amazing dubbing job for the leading actress drew more attention to the industry. 2018's reality TV show The Sound also focused on the dubbing industry and among the contestants, voice actor Bian Jiang gained a great deal of popularity. CDLP chats with the man behind the scenes
So how many series do you usually dub in a year and how long does it take for each?
It really depends on the market. In my case, I usually dub about ten series a year and I also dub animation, games and advertisements. The dubbing industry has been booming over the past few years. It usually takes a month to dub a TV drama of 30 to 40 episodes. As for animation, we basically need two days to dub three episodes.
Describe what the dubbing industry is like today.
Beijing is the centre of this industry. I joined in 2004, and there were only 200 or 300 people during the ten years from 2004 to 2014. More and more people want to become dubbing actors, and I think there are more than 1,000 now. As for job opportunities, some companies just reach out to me. After they are happy with the collaboration, they contact me again for more work.
Can you describe a typical work day and the overall environment for someone who works in the industry?
We used to start at noon and end at midnight – or even later. Many dubbing actors had health problems after staying up late for a long time. But it has changed now. We start so late because of the terrible traffic in the morning. Another reason is that the throat isn't in very good condition in the morning. As for our workplace, there's a recording room with a TV, an operation platform, a microphone and a chair. We can only enjoy cool air during break time, as the air conditioner must be turned off when recording. In the summer, it's pretty common that we sometimes can't breathe and have to rest for a while. We have our own studio, but we sometimes need to work in other studios. Actually, the job isn't very stable.
What training is necessary to become a qualified voice actor? Do you have to do anything special to protect your throat?
When I was in university, I took acting and dubbing lessons. About 80% of the time was about acting and lines. It was after graduation that I truly learned professional dubbing skills.
Actually, for those of us who took acting lessons, we could understand them faster than dubbing actors who had a different major. I always tell my younger workmates that they aren't dubbing; they are acting. I never do anything special to protect my throat, but some people in the industry indeed do this. I think my throat is pretty tough, as three days is all it takes for me to recover if I'm in bad condition.
The Sound brought a lot of attention to the industry in 2018. Has your life changed a lot since the show?
I wouldn't say my life has changed a lot – but it's true that more people know me now. Some people recognise me at airports and train stations. Also, more people like the industry and I have earned respect.
How do you get yourself into character, especially when you're trying to express complicated emotions?
We can't make any sudden moves when recording, as the microphone is very sensitive. When emotion is needed, sometimes I pinch myself or grab a table, trying to get immersed into the character. When I had just started my career, there was a time that I recorded one scene with a long monologue for four hours – I lost count how many times I tried to get it right!
It seems that one characteristic of a great voice actor is if the audience doesn't notice your existence…
All I can do is put myself into the characters with all my heart.
Some audience members notice that the same voices appear across a variety of different series, which makes them feel a bit weird.
In fact, there isn't a good solution to this problem. When I dub monsters and animation, I change my voice a little bit. However, when it comes to real people, I always use my real voice. I usually pay a lot of attention to the actors' emotions and styles to match. It's true that audience members who know me well will recognise my voice instantly. We don't have a superpower to show off our voice in various ways.
Foreign series and movies are dubbed in Putonghua for local audiences. What's your opinion about these shows?
I used to dub a lot of foreign shows, but now I don't do that as often. The process and the emotional expression, as I see it, are the same as dubbing Chinese shows.
The Japanese dubbing industry is very mature and professional. Is it the future of the Chinese industry?
The Japanese industry is pretty mature, but the Chinese one has just started. As the industry chain is different, I think we will have a different one with our own characteristics. But we can learn from our Japanese counterparts, for sure.
What moments make you feel most fulfilled and most upset as a dubbing actor?
When I am performing, the fans' cheers and their warm welcome make me feel the most fulfilled. At that moment, I feel all my effort is paying off and I also gain the motivation of working harder. On the flipside, for the past ten-plus years, I have been working in the same way, without any change – and it's pretty boring. When I'm in the studio, I can't feel the sunshine. I can only get excited by different characters.
You have a lot of fans today. What's your plan for the future?
I will try to find more excellent people for my office. I think my keeping up with trends is making progress already.