Sneaky tobacco ads show smoking as chic lifestyle
Share - WeChat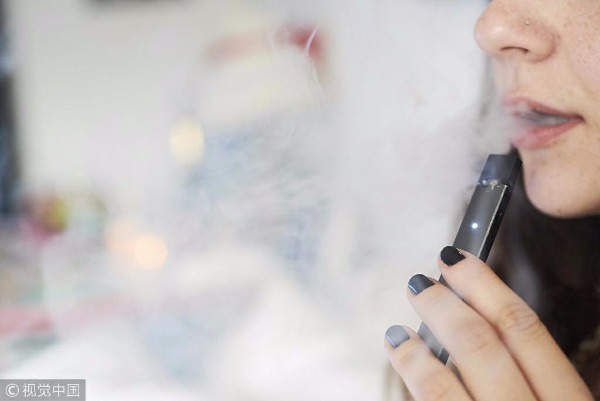 Internet platforms are posing new challenges to tobacco control, with many advertisements masquerading as shopping experiences or sharing personal lifestyles.
According to a report released by the Beijing Center for Diseases Prevention and Control on Monday, more than 51,800 tobacco advertisements or promotions were released online in the first half of last year. Of those, more than 80 percent contained contact information for tobacco agents.
The data, collected by the Beijing CDC and Peking University, was collected between April 1 and June 30 last year on 14 major internet social platforms, including WeChat and Weibo.
Although China enacted a regulation in 2016 banning tobacco advertisements on the internet, embedded marketing online - in which tobacco is featured in a personal shopping story or what appears as a discussion of lifestyle - has become a new trend.
"Compared with traditional tobacco advertisements, such information, dressed up in readable personal stories, is more difficult to identify through regular online supervision channels," said Zeng Xiaopeng, deputy director of the Beijing CDC.
The survey found that about 15 percent of the tobacco advertisements were embedded in stories about love, friendship and family, and presented tobacco to readers as a pleasant part of life.
In Xiaohongshu, a lifestyle-sharing platform that encourages mostly young consumers to write reviews and share their shopping experiences, more than 90,000 references could be identified with the key word "tobacco".
Many of the references involved the experience of buying a certain tobacco product or related goods. In the comment area, some writers also tell the readers how to purchase the tobacco.
The report said that Sina Weibo had the greatest number - more than 80 percent - of the cloaked tobacco advertisements and promotions among the 14 platforms.
A report released in March by Sina Weibo said that 75 percent of its users are between 18 and 30.
"Moreover, women are the major subscribers to those lifestyle-sharing platforms. In other words, those tobacco advertisements online pose a bigger threat to the health of women and children," Zeng said.
China, the world's largest producer and consumer of tobacco products, has about 350 million smokers, according to the Chinese Association on Tobacco Control. At least 500 million people experience secondhand smoke.
"Cigarette smoking produces more than 50 harmful substances that will cause cancer," said Wang Ke'an, director of the Think Tank Research Center for Health Development, a nonprofit health research organization.
He said women have a much higher risk of lung cancer or heart attack than men, given the same amount of cigarette smoke.
So far, 18 Chinese cities have anti-smoking regulations, and the ban in Beijing is one of the toughest. Beijing's regulation, which took effect in June 2015, bans smoking in all indoor public spaces, workplaces and public transportation vehicles.
Zeng said the Beijing CDC will continue to supervise online tobacco advertisements and release regular reports to the public. It will also further intensify public education on tobacco control.