Xi sends condolences following Paris blaze
'We will rebuild Notre Dame … because it's our deep destiny,' Macron says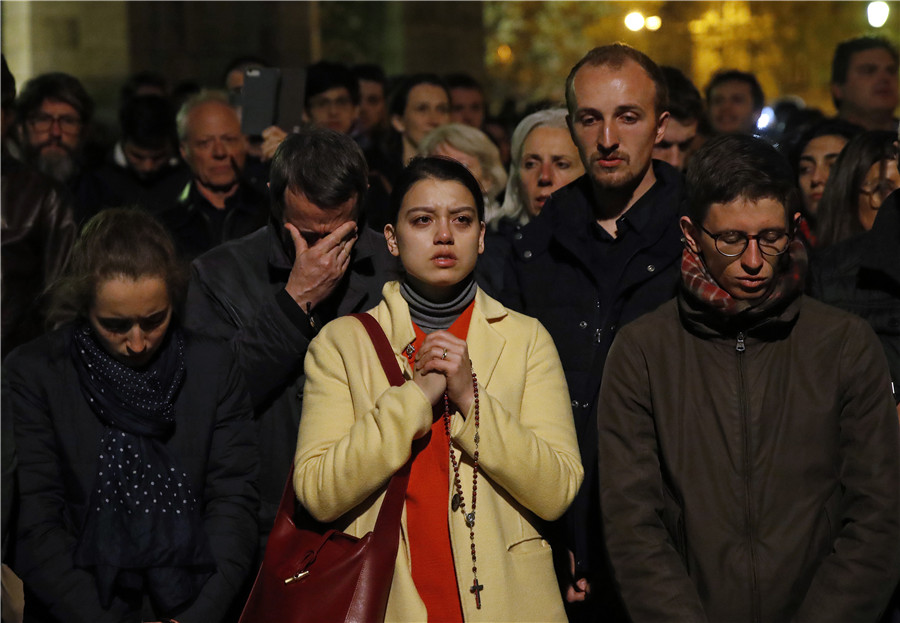 President Xi Jinping sent his condolences to French President Emmanuel Macron on Tuesday after a fire ravaged the Notre Dame Cathedral in Paris, with the Chinese leader expressing sincere sadness to all French people.
Noting that Notre Dame Cathedral is an iconic symbol of French culture as well as an outstanding treasure of human civilization, Xi said Chinese people feel deeply saddened by the fire, just as the French people do.
Xi said he believes that with the efforts of the French people and support from the international community, Notre Dame Cathedral will be repaired well and regain its glory.
The fire broke out about 6:30 pm on Monday around the roof of the cathedral, which was surrounded by scaffolding. It spread quickly and destroyed the wooden interior before toppling the spire.
It took more than 400 firefighters hours to extinguish the fire, with the main structure and two towers standing. The cause of the fire has not been determined, but is believed to be linked to renovation work. Investigators are preparing to question the team of workers as they look into the cause of the fire.
China can be a helpful partner in rebuilding the 850-year-old Gothic structure, said a historian from Cambridge University.
Alan Macfarlane, historian and professor emeritus at King's College, Cambridge, said that given China's widely acknowledged engineering and construction expertise in the world, "it would be a very appreciated gesture if the people of China offered their help in whatever way the French thought appropriate to rebuild".