Brexit lull may be calm before storm with elections looming
On Christmas Day 1914, on the World War I battlefields of Northern France, a remarkable thing happened. Troops declared an unofficial ceasefire and laid down their weapons, and some even left the trenches to play soccer together - before returning to resume their bloody war of attrition.
As Easter 2019 approaches, the Brexit battlefield has also gone quiet. But don't expect any friendly games. The divide is as cavernous as ever - and could be about to get wider.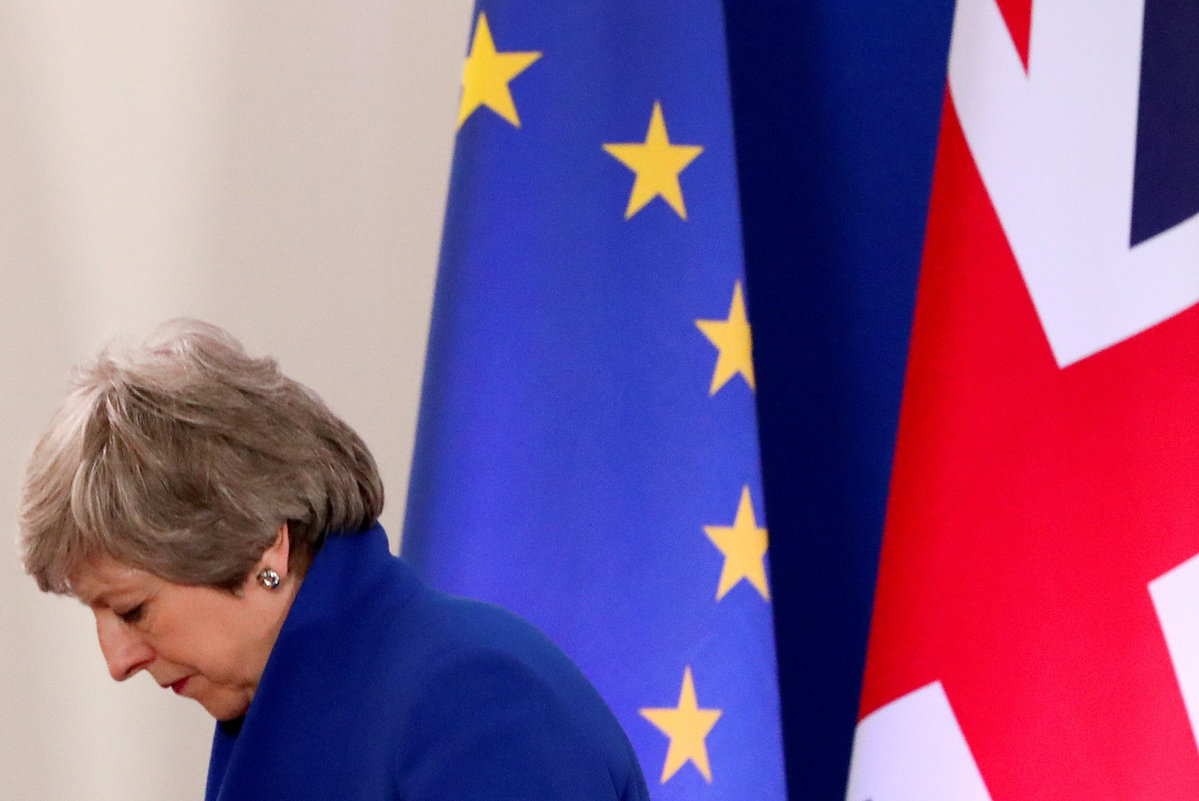 After months of Prime Minister Theresa May counting down to Britain's supposed departure from the European Union on March 29, the leave date was delayed until April 12, and then again to October 31.This means that at the end of May, Britain will be forced to take part in the European Parliament elections. And the end of May, the month, might also be the end of May, the prime minister.
The month also sees local elections in Britain, and both elections are likely to be treated by the electorate as an opinion poll on May's leadership - and the predicted outcome is considered horrendous.
Few people are better positioned to comment on the state of Brexit than Sir Ivan Rogers, the UK's former ambassador to the European Union. He told China Daily it was likely Brexit would get much worse before it got any better.
"What could end up being the most significant European election in British history is the one taking place after we're supposed to have left," said Rogers, author of 9 Lessons in Brexit.
"If the Conservatives do badly in local elections and then fail badly in the Europeans, it's the end for (May). It'll clarify her position is unsustainable.
"The difficulty is that a Conservative collapse will only make things worse, as any subsequent leadership campaign starts with all the contenders thinking that the party's core support is deeply against a May-type deal. So to win, they will have to strike a more Brexit position."
Rogers also said anyone who thinks the latest extension lessens the likelihood of a no-deal Brexit - one that would see Britain walk away without any replacement arrangements in place for all the legislation covering its links with the EU - is mistaken.
"If anything, I think it becomes more likely," he said. "I don't think May trying to get her three-times-rejected deal through the Commons will get anywhere; nor will talks with the opposition Labour Party. And if May falls, you're likely to have a Brexit supporter replace her in Downing Street, so whoever that is will probably want a more distant position from Europe than hers."
In addition, Rogers said,"French President Emmanuel Macron doesn't want Britain to rethink our position, he wants us out. He doesn't want to prolong the agony, and I think by October 31, more countries are likely to be in the French camp - if you're not prepared to back the deal we approved, then go for no deal and see how you like it."
Rogers says revoking Article 50, the legislative process of leaving the EU, is an option, but one that could only be carried out if there were a second referendum as part of the deal, a prospect he finds alarming.
"I think that would be very toxic in this environment, producing more heat and less light than the one in 2016 did. I don't see how it ends well," he said.
"Remain may lead the opinion polls at the moment, but it's not a big lead, and if it was abandoned, you'd have a very bitter section of the public feeling they voted for something - to leave - and it's not been delivered. The problem is, there are no good options. The question is, what's the least-bad option?"