City will stop planting certain trees to curtail catkins
Share - WeChat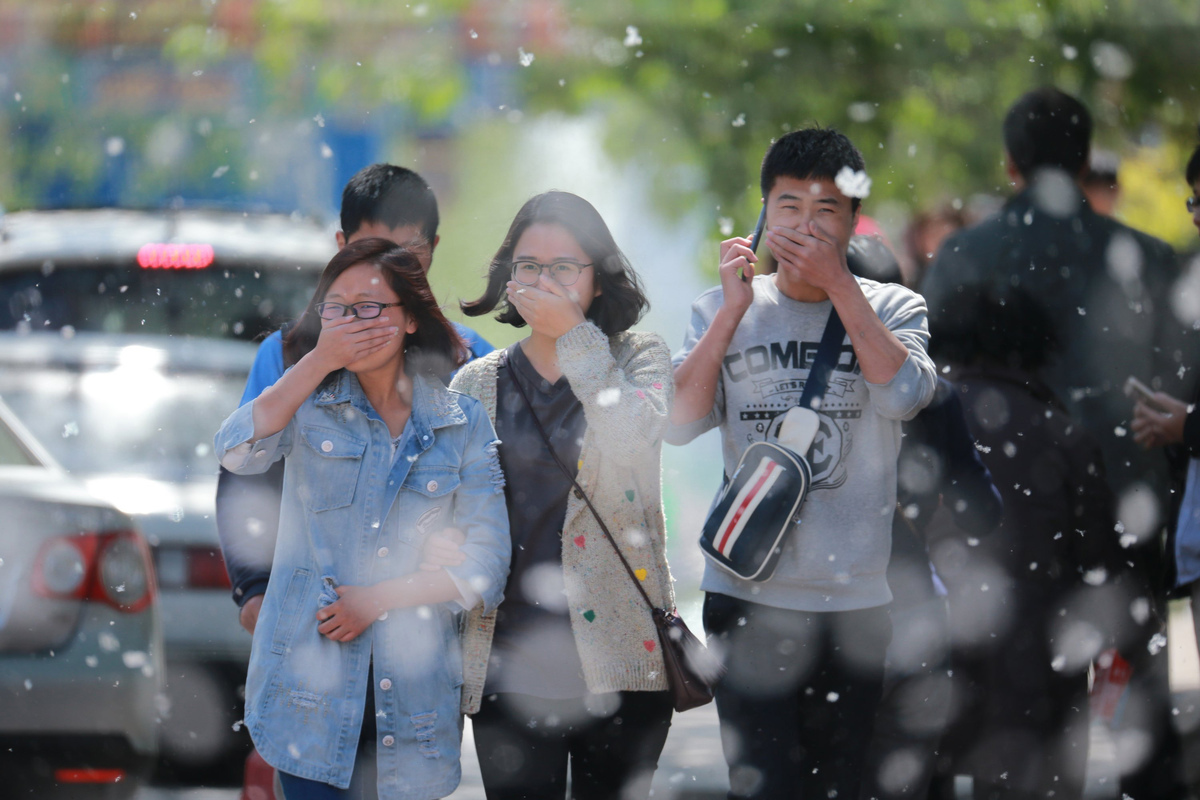 Beijing will ban the planting of female poplar trees in the future to prevent the mess of willow and poplar catkins - fuzzy reproductive tufts - that blow throughout the city every spring, creating problems for traffic, street cleaners and people with allergies.
According to the Beijing municipal landscape and forestry bureau on Sunday, the city will upgrade existing species and increase the variety of trees used in urban greening projects.
"In addition to upgrading the current poplar trees, we have adopted many methods for limiting catkin production, including chemical injection, trimming and thinning," said Zhang Bo, researcher at the bureau's science and technology office.
The city has organized a team with 100 professionals since 2017 to locate every female poplar tree within the Fifth Ring Road, he said.
"At present, the team has created a database of all the female poplar trees in the area, which provides strong data support for the catkin treatment," he said.
The government will also start a citywide inspection of the fire risks that come with catkins.
High-pressure water jets will be used to reduce floating catkins, and officials have asked the urban cleaning department to clear away the debris in a timely manner.
As of the end of 2018, the city had about 284,000 female poplar trees within the Fifth Ring Road. Chaoyang district has around half the total, according to the bureau.
Up to 60 percent of the poplar trees are growing well, and that means they produce catkins.
Cao Xiaojia, a doctor specializing in skin diseases at Chinese People's Liberation Army 306 Hospital in Beijing, said willow seeds are a common allergen in spring, with patients displaying symptoms such as red and itchy skin.
"Those who are sensitive should take precautions such as wearing a mask when going out and avoiding eating spicy food," she said.
In the 1960s, the government had limited money for landscaping in the capital, so the low-cost, fast-growing poplars and willows became the best choice at that time and were widely planted, said Zhang Jianguo, an expert at the forestry research institute of the Chinese Academy of Forestry.
He said simply removing the existing trees wouldn't solve the problem, and those trees have made an essential ecological contribution to Beijing's environment over the decades.
Zhang said, a typical poplar tree can absorb 172 kilograms of carbon dioxide and release 125 kg of oxygen annually.
Wang Xiaodong contributed to this story.