Govt pledges to boost coal mine safety
Share - WeChat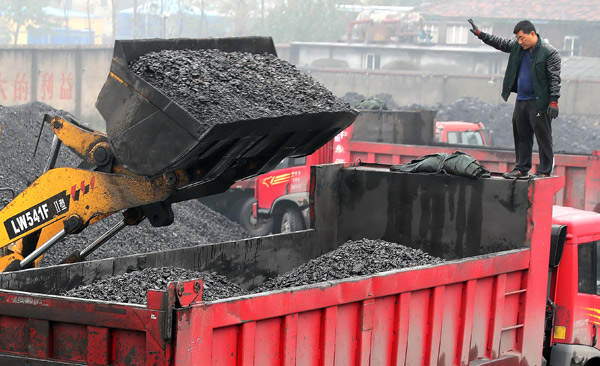 Hiring workers via labor services to be phased out; educated workers sought
The country's top coal mine safety watchdog has pledged to "fundamentally improve" safety by enhancing the quality of workers and promoting automation.
To reduce labor costs, some mine owners hire miners from labor service providers, rather than providing their own training.
That practice will be phased out over three years, according to the National Coal Mine Safety Administration, which said all miners should be hired directly by mine owners. It also said coal mines should increase automation and reduce manual labor.
"The research and development of robots for coal mine production should be accelerated to spare workers from dangerous and exhausting work," said Huang Yuzhi, head of the administration, at a national conference on Friday.
The current work pattern at mining companies-24-hour days divided into three shifts-will be gradually changed to eliminate night shifts, Huang added. "We should make the work and rest pattern of coal mine workers normal and regular."
He also called for changing the labor requirements of the industry to increase the ratio of employees with college educations to enhance safety.
Some coal mines use workers whom they do not directly employ but who are dispatched by labor service companies to work underground. It reduces costs, but some of the workers are not qualified, which poses risks, Huang said, adding that such workers will be phased out in the coming three years.
Currently, dispatched workers in China are not eligible for many of the welfare benefits of regular mine employees.
The change will also mean that the mines will shoulder the responsibility of attending to dispatched workers' job-related injuries or deaths, which currently falls on the labor service dispatching companies.
Shanxi province is said to be the first provincial region to ban such miners. A circular published in 2010 by the province's coal mine management authority asked to halt such hiring by May 2011.
According to the document, the use of "dispatched workers" underground violates China's Labor Law, which says such workers may be given only temporary or assistant posts.
It also said some of the workers are trained by the labor service companies instead of by the coal mines themselves, resulting in weak safety awareness and violations of work discipline. They also create unstable teams because of frequent resignations.
Huang said his administration will make effort over the next three years to meet a goal of having at least 30 percent of coal mine employees with a three-year college education or better. The rate of those with a junior high school education or less will be reduced to less than 40 percent of the mining workforce.
A large group of technicians and craftsmen will be cultivated at the same time, he said, as part of his administration's efforts to "greatly improve coal mine employees' safety awareness and technical capabilities" and "build a team with high-quality personnel", which will lead to fundamental improvements in the coal mine safety situation.
According to the National Coal Mine Safety Administration, the number of coal mine accidents nationally decreased by 0.9 percent year-on-year to 224 last year. The accidents claimed 333 lives, down by 13.1 percent. The death rate per 1 million metric tons of coal in China decreased by 12.3 percent to 0.093 last year. It was the first time the figure had fallen to below 0.1.