Top banks value ties with China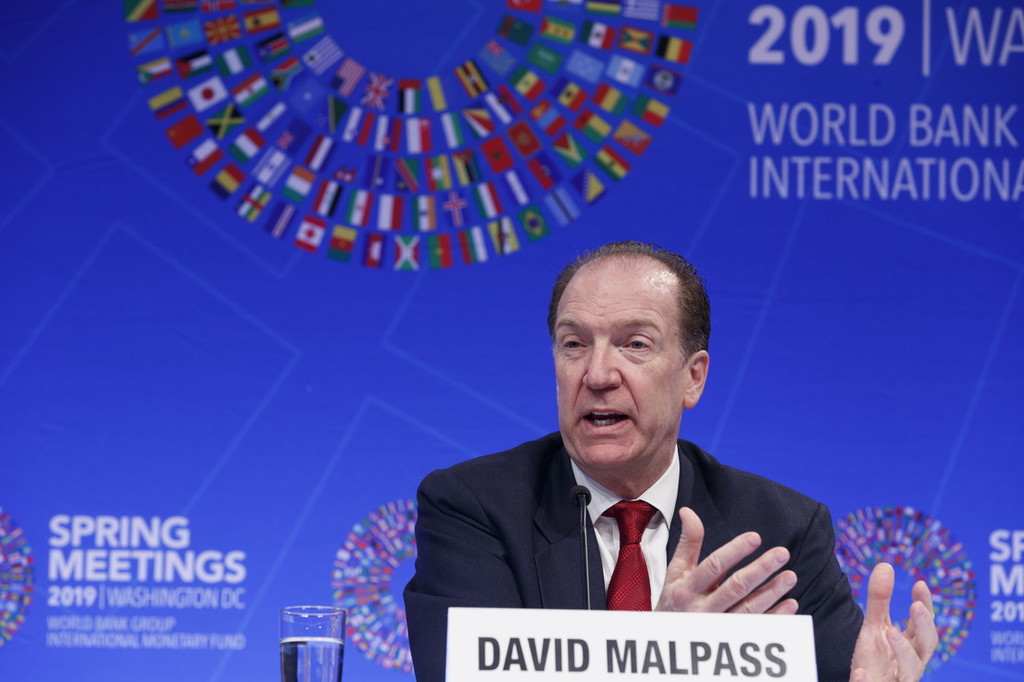 The World Bank Group's new president David Malpass said the global financial institution values a "constructive relationship" with China, while International Monetary Fund chief Christine Lagarde called the country's recent stimulus measures the "right approach".
The two officials made the remarks at separate press conferences on Thursday when finance ministers and central bankers worldwide gathered in Washington for the annual meeting of the IMF and the World Bank.
"I'm looking forward to a constructive relationship with China. It is one that is evolving," Malpass told the press on Thursday, two days after he took office.
China has changed greatly to be much stronger economically over the past decades, during which the country has evolved from a major borrower from the World Bank, benefitting from its loans, to one whose borrowing has been going down, he said.
"At the same time, China is becoming more of a donor to the World Bank, and a shareholder in the World Bank, and so we value that constructive relationship," he said.
The 63-year-old former US undersecretary of the Treasury began his five-year term on Tuesday. He was chosen by US President Donald Trump in early February as the candidate for the World Bank presidency, following the abrupt resignation of former World Bank chief Jim Yong Kim.
Malpass said that he visited China in early February and met with Chinese President Xi Jinping and other officials.
"We talked in very constructive terms about the relationship, and one of the things that I want to emphasize is that we share a common view that poverty alleviation, that shared prosperity are not just key goals of what the World Bank should be doing, but also what nations around the world should be trying to do," he said.
Ending extreme poverty and promoting shared prosperity are two goals the World Bank Group has set for the world to achieve by 2030.
China has been "hugely successful" in reducing extreme poverty, Malpass said, adding that in China as many as 850 million people are no longer in extreme poverty as the median income in China has been going up over the decades.
"That's an achievement," he said. "China has some lessons to share and insights to share with the rest of the world."
By 2030, nearly 9 in 10 extremely poor people will be Africans, and half of the world's poor will be living in fragile and conflict-affected settings. This calls for urgent action — by countries themselves and by the global community, Malpass said at the press conference.
To secure more resources to support programs in the sub-Saharan Africa region, Malpass said he had met with Jin Liqun, head of the Asian Infrastructure Investment Bank, who was attending the spring meetings in Washington.
"We had very good conversations about ways that there can be cooperation that achieves very high-quality lending programs," Malpass said.
The new World Bank chief also highlighted the importance of transparency of the debt, of the quality of the projects and the coordination with other donors for China's programs abroad, so that the borrowing countries will have "good outcomes".
In a separate press conference, IMF Managing Director Christine Lagarde said the IMF had noted China's shift to high-quality growth and welcomed its recent stimulus measures.
The IMF's World Economic Outlook, released on Tuesday, said that Chinese authorities have responded to the slowdown in 2018 by limiting the extent of financial regulatory tightening, injecting liquidity through cuts in bank reserve requirements and reducing the personal income tax and value-added tax for small- and medium-sized enterprises.
"On the Chinese stimulus, as you know, our forecast for growth is 6.3 [percent] this year, 6.1 [percent] next year, a regular anticipated slight moderation year after year, as we have observed it, and certainly, a shift towards quality growth," Lagarde said on Thursday.
The recent stimulus that was decided upon by Chinese authorities, as it stands, has been welcomed, she said.
"We thought that it was the right approach under the circumstances. And it goes together with those fundamental policies that have been enacted now for semester after semester of keeping the credit mechanisms and flow under control in order to rein in excessive investment," she said.