City district picture-perfect again
Share - WeChat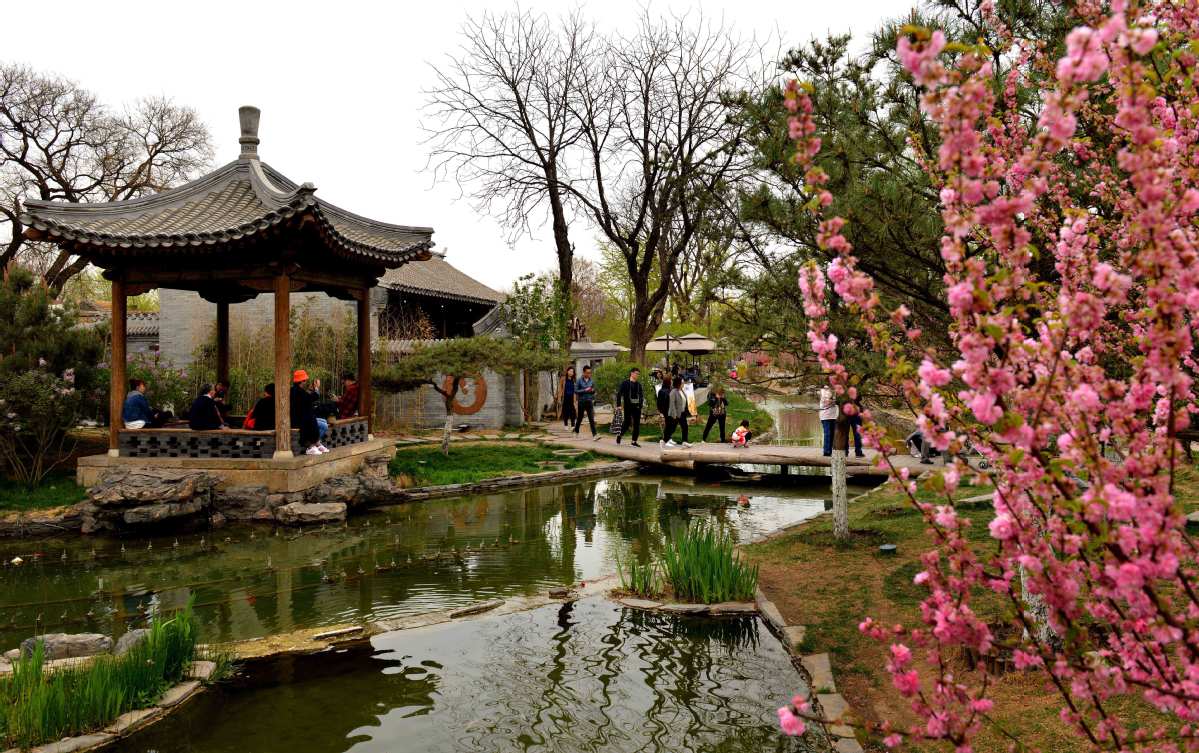 It's as if you are walking into a scene one usually sees in regions south of the Yangtze River. Yet it is tucked away in the core of China's capital city.
The Sanlihe area of Beijing's Dongcheng district has added a unique water scene to its urban landscape. Green lawns, towering willows, red flowering plums and yellow forsythia blossoms line each side of a 900-meter-long river.
It's picture-perfect.
A few steps away is a cluster of traditional hutong buildings featuring gray tiles and walls.
Green stone slabs connect everything and allow visitors to meander through the area. Pavilions and stone benches emerge from here and there, offering people a place to rest.
It might be the best place to enjoy nature while savoring traditional Beijing.
"Everything changed when the river came into place," said Zhang Junyi, who has been living in the neighborhood for 69 years. "It used to be a residential area, and no one would consider taking a walk here."
The Sanlihe area had a river back in the mid-15th century, when locals built houses, a theater and guild halls along the river. However, the river was removed as new flood channels were developed and as the population grew, especially since the late Qing Dynasty (1644-1911).
In August 2016, the local government began to restore the river to its historical location and integrate its surroundings with hutong and natural elements.
Big trees, such as century-old fragrant cedars, have been retained, along with hand-operated stone mills, which were scattered along the riverbank and were dug up during the project, said Li Jun, general manager of Tianjie Group, which is in charge of the development.
All historical buildings were kept in place during the restoration. Everything, from old bricks to gateposts, stones and wooden items, were preserved, provided they could be of some use, Li said. Even the stones for walkways are artifacts from old times.
The project lasted eight months and the area opened to the public in May 2017.
At the same time, biologically activated carbon, an ecological floating island and aeration are being used in the river to ensure water quality.
Lotus flowers were planted to add spice to the landscape, while purifying the water. And three underground reservoirs collect rainwater to supplement water from the river.
"The river can sustain water for a year if there are three rains," Li said.
The Sanlihe project is part of the protection and restoration plan for the eastern part of the Qianmen area.
The eastern part covers 58.6 hectares and mostly serves as a residential area. It has witnessed a lot of change but is still connected to traditional culture of the city, including commerce, folk customs and opera.
The plan officially kicked off in 2005 and has aimed at protecting local antiques and cultural heritage, and improving local living conditions.
Zhang, the longtime resident, comes for a walk whenever he has time.
"It just puts you in a good mood when you see the beautiful scenery," he said.