The coming of age of Chinese fashion
Share - WeChat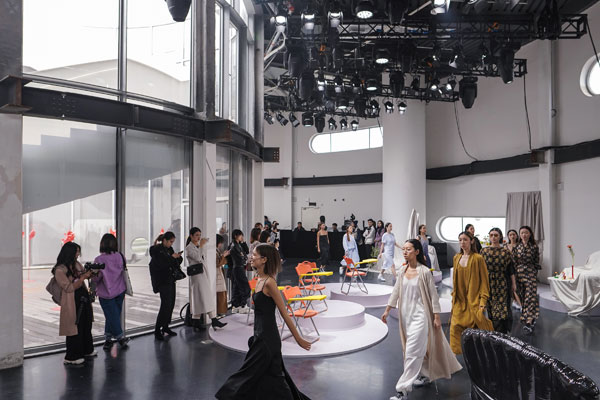 Buoyed by strong backing from global organizations and the mature digital landscape in China, the local design community can now flex their creative muscle for all the world to see, Alywin Chew reports in Shanghai.
China's fashion scene might not be as mature as its European counterparts, but its growing presence in the global fashion network shows that it is quickly coming into its own, according to industry insiders.
One of the most obvious examples of this is the evolution of the Shanghai Fashion Week, says Caroline Rush, the CEO of the British Fashion Council who was recently in Shanghai to attend the event.
"When I first came to Shanghai Fashion Week in 2014, there was only one tent in Xintiandi and a few events scattered around. Now, you can find the fashion week has taken over the city. You can see so many more collaborations with international partners being made," she says.
Adrian Yu, a buyer for luxury retailer Lane Crawford, points out that Chinese designers such as Liu Min, the founder of fashion brand Ms Min, encapsulate the evolution of the Chinese fashion scene through the years.
"Ms Min started out very small but they now have stores all around the world. It is one of those brands that have put the Made in China label on the international stage. Chinese designers are also frequently appearing at Paris Fashion Week and showing their creations to international buyers. Some have even been scouted by influential stores in Europe. This is all very promising for the Chinese fashion sector," he says.
A new development at SFW this year, which ran from March 27 to April 8, was the introduction of the inaugural Business of Fashion China Prize which was won by Caroline Hu, the New York-based Shenzhen native who has been highly praised for her creations. Renowned fashion magazine Vogue even commented that "her dresses belong at the Oscars".
Most Popular