Paperwork pushes teachers to breaking point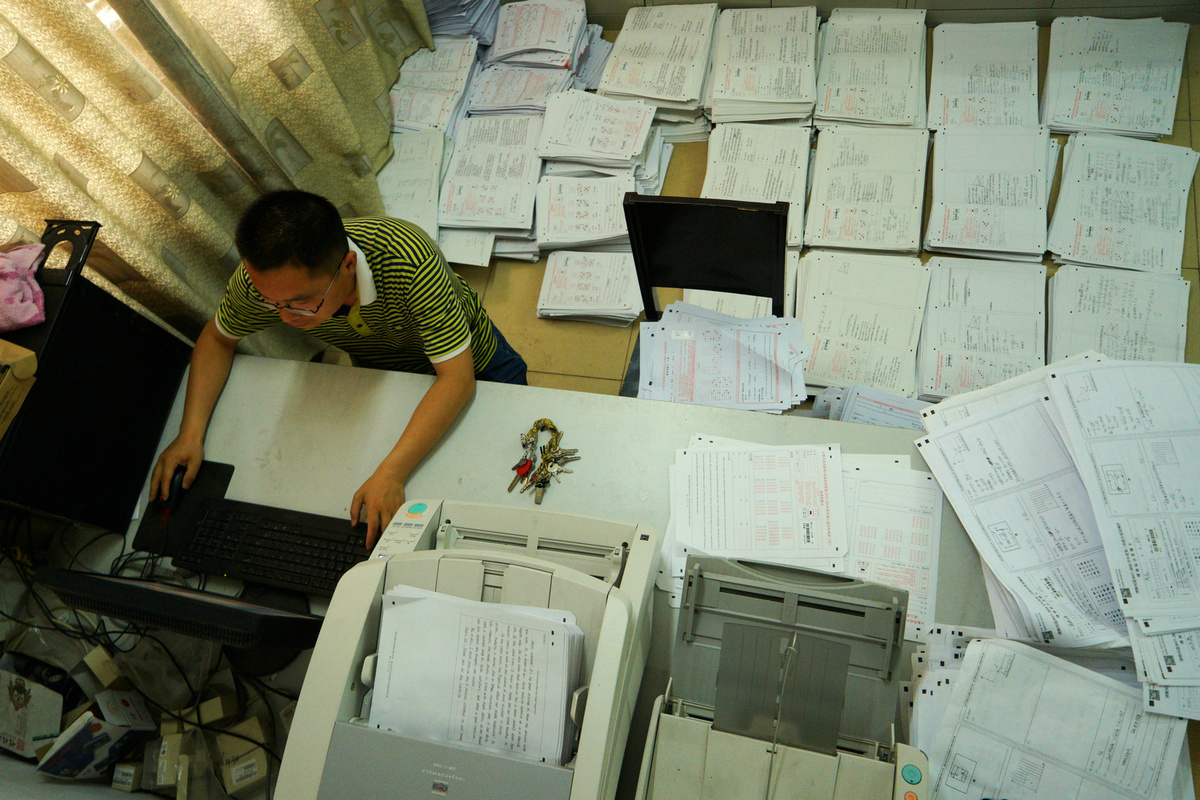 Administrative duties are taking up an increasing amount of time, to the detriment of both staff members and students. Zou Shuo reports.
Few teachers enter the profession expecting an easy life and to only work from 9 am to 5 pm, but recently workloads, especially endless paperwork that appears to have little to do with teaching, have spiraled out of control.
It's unlikely that anyone would choose a career in teaching because they enjoy filling out forms and dealing with inspections, but now administration has become a large part of the job.
Maintaining a healthy work-life balance is a major issue for many teachers, who routinely sacrifice lunch breaks, evenings and large parts of their weekends to doing what many deem unnecessary paperwork.
They said time locked in offices filling out forms could be better spent in the classroom or on pursuing professional development, both of which would have greater tangible benefits for their students' education.
The waves of school-based forms from all levels of the education authorities may be well-intentioned, but they are having a negative effect. Teachers are burning out and finding that the joy is fading from their classrooms, actual teaching time is limited and family time is being compromised.
Zhang Hong, who teaches at a primary school in a village in Jiangxi province, said she usually has to work 60 to 80 hours a week, and a big part of the job entails filling out forms.
She believes the amount of paperwork teachers are now expected to deal with is getting out of hand and taking her away from teaching her students.
As the head teacher of her class, she has at least eight notebooks in which she keeps daily updates of different aspects of her work.
They include: one devoted to class routines - such as the number of students attending, the topics they study and feedback - and how the students perform every day; one for school and student safety; one for the progress of the school's digitalization program; one for notes about different meetings; one for her work plans; one for her teaching plans; and one for the school's efforts to develop the students' sporting, musical and artistic talent.
Frequent inspections
Moreover, whenever education authorities at different levels arrive to inspect the school, which happens increasingly frequently, Zhang has to prepare paperwork for the review. Once the inspectors have left, she has to write reports detailing suggestions to further improve management of her class, she said.
Last year, in addition to the handwritten notebooks, the work she completed on her computer amounted to more than 3,000 pages of A4-size paper.
"I believe the need for documentation has lost sight of the original intention, which was to help teachers improve their teaching," she said. "A lot of it seems to be paperwork as proof of having done other paperwork. It comes down to a lack of general trust in teachers' judgment as professionals."
Yu Dangchu, who teaches Chinese at a middle school in Shanghai, said that in addition to paperwork, teachers have to deal with a rising number of requests from parents, especially with the growing prevalence of teacher-parent groups on WeChat.
"Parents know they can get through to teachers in the groups whenever they want, and they do so whenever they feel like it, giving teachers all kinds of 'friendly suggestions' on how to do their job better," he said.
A teacher may be criticized if he or she is slightly tardy in replying to the messages, and some parents may even consider them irresponsible and incompetent, according to Yu.
"I do think communication can help solve some issues between parents and teachers, but excessive communication leads nowhere and will only make everyone exhausted," he said.
"Parents need to understand that teachers are professionals, which means they know what they are doing and do not need to be judged by parents who know little about teaching."