Mass courses bring top-level education to all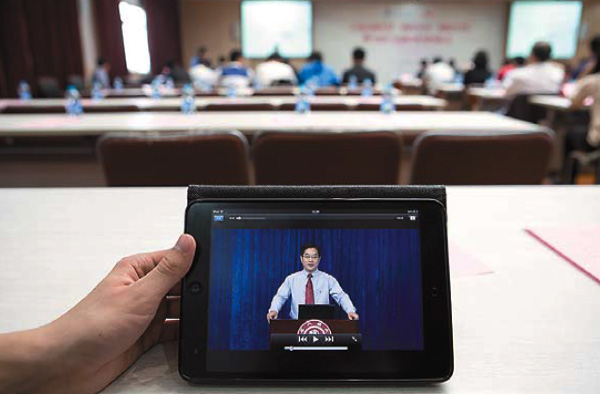 China ranks first in the number of Massive Online Open Courses and viewers in the world, the Ministry of Education has said.
The mass university courses came to China around 2013, allowing people from all over the country to hear lessons simultaneously from anywhere. After six years of development, the country now has 12,500 such courses. More than 200 million people have participated, nearly triple the number in 2017, said Wu Yan, director of the ministry's higher education department.
A total of 65 million university students have also received credits through mass courses, he said at the China MOOC Conference in Beijing on Tuesday.
In 2018, the ministry approved the first 490 national-level courses, 70 percent of which were established by China's top universities. It approved another 801 national-level courses this year, Wu said.
More than 200 of the courses developed by 19 Chinese universities have been viewed by people from the United States, the United Kingdom, France, Spain and South Korea, he said.
"While sharing best practices and the latest developments with the global MOOC community, we also aim to share China's experiences, standards and programs with the wider world," he said. "The courses in China have been developed by top universities, together with teams of experts and teachers, to ensure the best quality. Through strict quality control and credit recognition, we aim to make high-quality courses accessible to both university students and the general public."
The mass courses can offer training opportunities for teachers and help bridge the gap in teaching quality, he added.
The ministry plans to develop more courses benefiting universities in central and western China and other remote areas.
Xu Zhizhen, who teaches chemistry at East China University of Science and Technology in Shanghai, said the university opened a live MOOC course with Kashgar University in Xinjiang in October.
Students from both universities take the course together, in addition to their live courses. Shanghai teachers will provide extra instruction to students in the Xinjiang Uygur autonomous region during class breaks to help them keep up with their counterparts in Shanghai, she said.
Because the mass courses can break through the limitations of time and space, they offer valuable opportunities for students from impoverished areas to get a good education, Xu added.