Robber shot dead after airport heist
Millions of euros believed taken in Albania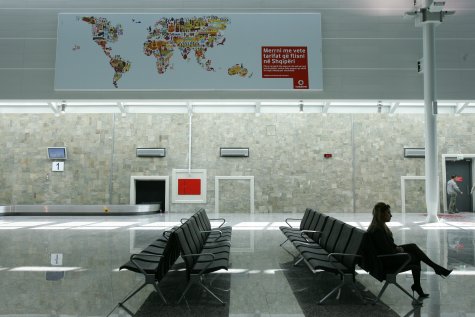 Albanian police have arrested four people and questioned 40 others after an armed robbery at Tirana's Mother Teresa Airport ended in a deadly shoot-out.
Thieves broke into the airport and stole bags reportedly containing millions of euros in cash as they were being loaded onto an Austrian Airlines flight to Vienna.
Initial reports put the amount stolen at 2.5million euros ($2.8million), but according to local media, the figure could be as much as five times that amount.
Details of precisely what happened are unclear, but one report says the gang accessed the runway by using a gate designated for emergency vehicles and drove up to the side of the plane in a van just as the cash was being loaded.
Armed men in military fatigues then jumped out and carried out the robbery.
Afterwards, police gave chase, using a helicopter, and in the ensuing exchange of fire, police say one of the gang was killed but it is believed the rest of them escaped.
"Boarding had just taken place. There was never any danger for crew and passengers,"said a spokeswoman for Austrian Airlines.
Tirana Airport has been the scene of several robberies in recent years, raising doubts about its security, and it is reported that the people being questioned by police include some members of airport staff.
There have been two previous robberies on the road leading to the airport, and once at the airport itself.After the last robbery, police recovered some of the cash stored underground in pressure cookers.
The flight was delayed for three hours before successfully completing its journey.Cash transfers are a common occurrence at the airport as Albania's central bank does not accept large deposits.
However, in the aftermath of this incident, Austrian Airlines says no further cash transfers will be made to Vienna.