NZ seeks to upgrade relations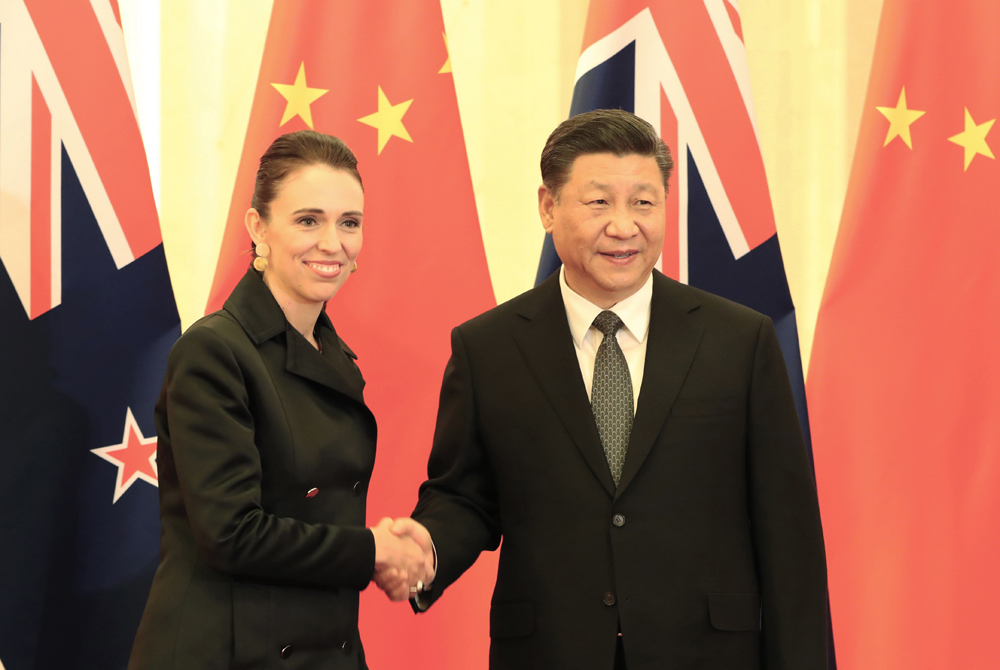 There is a saying in English that a picture is worth a thousand words. The pictures from the visit by New Zealand Prime Minister Jacinda Ardern last week should have demonstrated very clearly that New Zealand and China enjoy a strong partnership.
Despite the trip having been shortened in the aftermath of the March 15 mosque mass shootings in Christchurch, the fact that the prime minister was able to visit in such extenuating circumstances was personally recognized by President Xi Jinping, who noted it as proof of the "special commitment" New Zealand has to its relationship with China.
Ardern was received in the Great Hall of the People in Beijing with a degree of solemnity that reflected more than four decades of bilateral cooperation between the two countries. Her meetings with President Xi and Premier Li Keqiang resulted in a reaffirmation of the comprehensive strategic partnership between China and New Zealand.
What emerged from these high-level discussions was a readiness from both New Zealand and China to build new momentum in the relationship, including an upgrade to the existing free trade agreement. Later this month, New Zealand's trade minister will visit Beijing to advance planning on participation in the Belt and Road Initiative, another sign the two countries are seeking new opportunities to work together.
Other agreements signed during the visit point to greater headway in government-to-government cooperation. These include strengthened agricultural and scientific research connections, financial dialogue and taxation agreements. While these technical agreements are often lost in the headlines, they represent real progress in the day-to-day machinery of the relationship and will result in tangible benefits for both sides.
Ardern also took time to open New Zealand's new embassy in Beijing, on a site that has hosted New Zealand's representation in China since the 1970s.
The new embassy holds staff from eight government agencies, which, combined with consulates in Shanghai, Guangzhou, Chengdu and Hong Kong, makes China the country with New Zealand's largest overseas diplomatic footprint.
It is a very positive sign to see more New Zealanders on the ground in China, helping the country become more "China aware" and increasing understanding of the needs of Chinese and New Zealanders who want to live, do business and travel in each other's country, as they are doing in increasing numbers.
Today both countries are cooperating across a wider range of areas than ever. It is inevitable that differences will sometimes arise, and Ardern took the time to carefully explain New Zealand's views and regulatory processes. Her hosts will have made clear their views also.
It is important that Ardern was able to explain New Zealand's position on these issues. This not only speaks to the growing maturity of the relationship, but also answers China's calls for trust and transparency as the basis for moving forward in areas of mutual benefit.
Although Ardern was in China for a short time, the visit was packed with both symbolism and substance and should send a strong message about the strength and resilience of the relationship. It was heartening to see the media coverage from both countries following Ardern's departure, with the word's "warm" and "constructive" frequently used to characterize the mood of the visit.
It is often said that a great relationship is about two things: finding similarities and respecting differences. As the prime minister said in her own words: "The differences between us certainly should not and will not define the relationship. Our relationship is too long, too great in history and has a layer of depth to it that I don't think it should be defined by those differences and I don't believe it will be."
For his part, President Xi is reported to have referred to New Zealand as a "pacesetter" among Western developed countries in terms of relations with China.
This should leave us in no doubt that the New Zealand-China relationship is in good shape and provides a basis for delivering multiple benefits to the citizens of both countries.
The author is executive director of the New Zealand China Council, based in Auckland. The views do not necessarily reflect those of China Daily.