May seeks further Brexit extension from EU leaders
French president reported to favor imposing strict conditions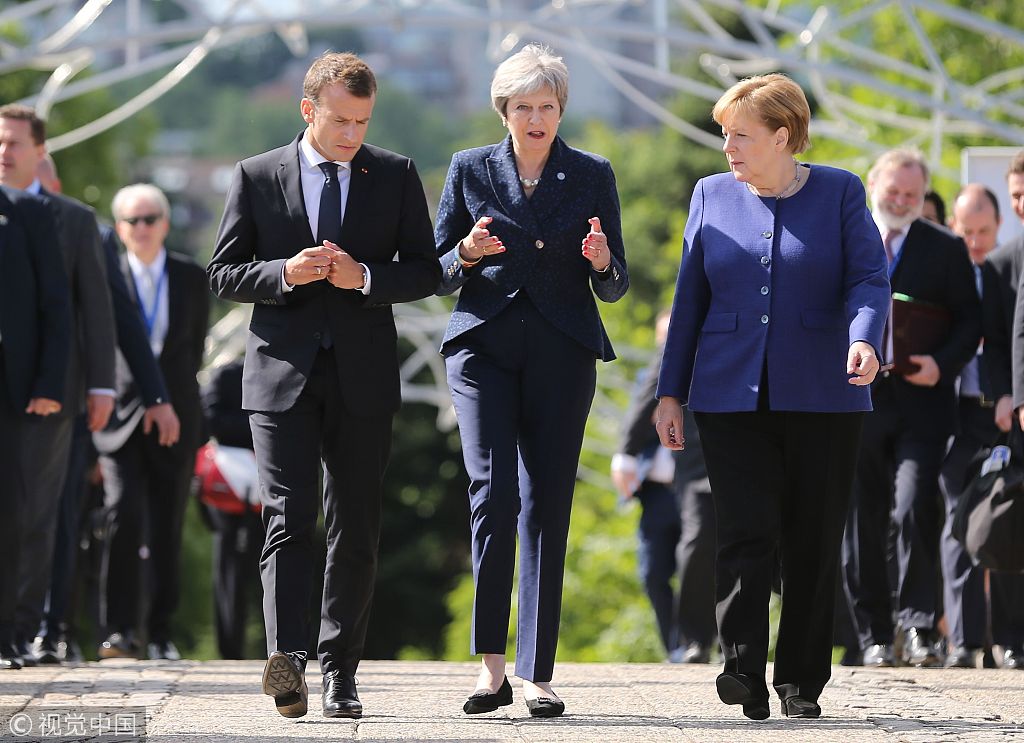 British Prime Minister Theresa May travelled to Berlin and Paris on Tuesday for talks with German Chancellor Angela Merkel and French President Emmanuel Macron, the two dominant leaders of the European Union, to seek a further extension to her country's delayed withdrawal process from the EU, after suffering yet another setback in Parliament.
On Monday, members of Parliament passed a bill brought by opposition Labour MP Yvette Cooper which would force May to seek an extension, rather than leave the EU this Friday without having managed to secure a deal.
In a 2016 referendum, the British public voted by a margin of 52 percent to 48 percent for the country to leave the 28-member economic and trading bloc, but nearly three years on, the picture as to how, when and even if what will happen is still totally unclear, having completely dominated British politics ever since.
At the end of last year May agreed withdrawal terms with the leaders of the other 27 EU member states, but so far her attempts to gain parliamentary backing for them have repeatedly been heavily rejected, as they are equally unpalatable to both those who support Britain leaving, and also those who want the country to remain in the EU.
The original withdrawal date was March 29, which was then extended to April 12. The government opposed the Cooper bill, saying May was already going to seek a further extension beyond that, but backbench MPs voted to make it binding, so May was obliged to seek a further extension and could not change her mind at the last minute.
The bill received royal assent, the final confirmatory stage of the legislative process, on Monday night, and on Tuesday there was due to be a motion put forward in the House of Commons asking for approval of May's request to the EU for another extension.
Reports from France, however, indicate that Macron is likely to demand strict terms for any further extension.
News outlet BuzzFeed said it had heard that Macron does not want any extension beyond December 2019, and will ask other EU leaders to support the imposition of compliance checks on the UK every three months during any extension period.
Moving the scheduled date from April 12 means Britain will have to take part in European parliamentary elections, something May's government was desperate to avoid.
Previous European elections have received little coverage in the UK, and produced a low turnout. In 2014, the British turnout was 35.6 percent, as opposed to 42.43 percent in France, 48.1 percent in Germany and 57.22 percent in Italy.
This has presented an opportunity for populist groups such as the United Kingdom Independence Party to win seats and a platform for their views.
However, one of the unexpected consequences of Brexit has been the emergence of a strong pro-EU movement in the UK, so this newly stirred-up passion could have a significant impact on turnout and voting in this year's elections at the end of May.