Foreign businesses get assurance as new trade rules ensure equality
Share - WeChat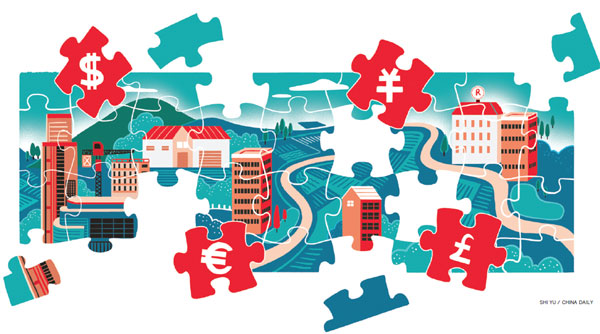 Move to enhance fairness in the commercial environment will help attract greater global investment
Non-discrimination will be a cornerstone, as will harsher punishment, in amending trademark infringement laws in the latest move that will offer domestic and foreign businesses equal treatment and nurture fair competition.
The move was determined at an executive meeting of the State Council, the Cabinet, which was presided over by Premier Li Keqiang on Wednesday.
A number of draft amendments to the laws concerning administrative approvals, trademarks, and digital signatures, were passed at the meeting to ensure effective implementation of the Foreign Investment Law, which was adopted during the annual session of the National People's Congress last month. The drafts are to be submitted to the top legislature.
According to the draft amendments, the principle of non-discrimination will be added to administrative approval procedures, along with increased financial penalties imposed on violators who infringed trademark rights, said a statement released after the meeting. In the meantime, the procedures and time it takes to get construction permits will be sharply reduced.
The meeting was a follow-up of what Li promised last month at the annual NPC session in Beijing and the Boao Forum for Asia 2019 Annual Conference in Hainan province.
Experts said the amendments, if adopted, could help attract overseas investment and keep China as one of the world's leading destinations for foreign direct investment.
In the Government Work Report that Li delivered on March 5, he said fair competition is the core of market economy and all regulations and actions that impede unified market and fair competition will be sorted out.
At the annual conference's opening ceremony on March 28, the premier said in a keynote speech that the government has started formulating regulations and rules matching with the Foreign Investment Law.
By the end of this year, operational rules will be released and will take effect on Jan 1 next year to keep in line with the new law, the premier said. He also pledged further reform and opening-up by clearing up or revising any rules and regulatory documents that are inconsistent with the new investment law.
Last year saw 60,533 new foreign-invested companies registered in China, an increase of 69.8 percent year-on-year, according to the Ministry of Commerce. China used foreign investment of 885.6 billion yuan ($134.9 billion), up by 0.9 percent year-on-year, excluding those in banking, securities and insurance sector, the ministry said. FDI from Germany even went up by 79.3 percent year-on-year last year.
However, facing rising protectionism and unilateralism, Chinese leaders have reiterated that the door will open even wider to the outside world. From January to December last year, nearly 1,700 contracts were signed for projects worth more than $50 million, up by 23.3 percent, showing the confidence foreign investors have in the Chinese economy, the ministry said.
Over the past several months, some people had the suspicion that foreign-owned companies might move their production out of China to areas such as Southeast Asia, where they can find cheaper labor.
Cui Fan, a professor of international trade at the University of International Business and Economics, said the State Council meeting was the central government's first step to fulfill promises made before.
The non-discrimination principle, or competitive neutrality, is in line with clauses in the Foreign Investment Law as a key to offer foreign investment equal treatment to that of domestic companies, Cui said. From his perspective, an improved business environment can also be a magnet for foreign investors into China.
As Cui and his fellow researchers found, many international companies are confident in China's great market potential and complete production chains, which cannot be found in other areas. "In an easier and more convenient business scenario, foreign investors will judge what's best when it comes to where they put their money," he added.