Poetess' use of verse to battle adversity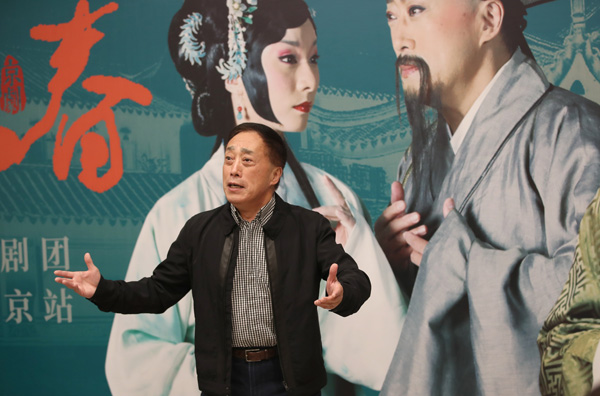 A new Peking Opera show, which will be staged in the capital, focuses on a bold and pioneering woman from the Song Dynasty period, Chen Nan reports.
When Li Baochun, a 69-year-old Peking Opera master, decided to produce a new piece based on Li Qingzhao, he decided to take a different approach.
Li Qingzhao, who lived in the Song Dynasty (960-1279), is recognized as one of China's greatest poets. And she stood out in a literary world, which was dominated by men.
In the show entitled Qing Hui Lang Zhao, or She and Her Men, Li portrays the poetess as a bold and pioneering woman who overcame bad relationships.
She became a widow after her first husband, Zhao Mingcheng, an official, died during a military invasion, and later she married Zhang Ruzhou, an abusive man, who she subsequently divorced.
"Li was a highly educated woman, though at that time, women had a low status in society and were not encouraged to go to school.
"Even with her marriages, Li Qingzhao broke convention," says Li Baochun, who is the scriptwriter and director of the new show, in which he plays the role of Zhang Ruzhou.
Speaking about the show, which was staged in Beijing on April 7, Li says: "You will get a fresh understanding about Li Qingzhao's poems after learning about her life experiences."
As for the cast, the show features actors from Li's Taipei Li-yuan Peking Opera Theater, which he founded in 1998 after he moved to Taiwan. And prominent among them is actress Chen Yuxuan, who plays the role of Li Qingzhao.
The current tour of the show, which runs through April 29, began in Changsha, Hunan province, on March 29, and will also cover mainland cities such as Shanghai, Jinan in Shandong province and Tianjin.
Meanwhile, as part of the tour, Li Baochun is also staging another Peking Opera piece, The Orphan of Zhao, which he reworked with a different ending from the original.
The original piece written by Yuan Dynasty (1271-1368) dramatist Ji Junxiang tells the story of an orphan's revenge. And it was one of the first major Chinese plays to be translated into European languages.
In the original version, Cheng Ying, a doctor, sacrifices his son to save the infant of the royal Zhao family, Zhao Wu. But when the orphan grows up, he gets revenge by killing Tu'an Gu, who framed and killed his family members when he was an infant.
In Li Baochun's version, Tu'an Gu is imprisoned in the end with the help of Cheng Ying, and Zhao Wu reunites with his family.
Speaking about his reworked effort, Li says: "In the original piece, there are many violent scenes. So, I kept all the classic singing parts but changed the ending because I like a happy story. And it is more important to let things go rather than kill."
But he adds that he was worried about audience reaction, and he was relieved only after the show was staged in Changsha in late March.