Regional teamwork urged for crop pest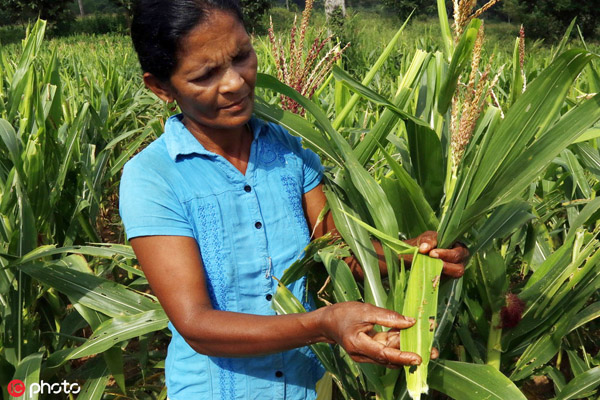 A destructive pest the size of a little finger known as the fall armyworm is devouring staple crops and threatening farmers' livelihoods across large parts of Asia.
As many as 15 provinces in southern, central and eastern India are reported to have been affected since May 2018. Parts of Yunnan province have also shown the strains of what is often described by experts as "one of the deadliest crop pests in the world".
Thailand, Myanmar, Sri Lanka and Bangladesh were all hit late last year, with vast swaths of maize, sorghum and millet being destroyed. Concerns are being raised that the pest could spread to the Mediterranean as well.
Malvika Chaudhary, Asia regional coordinator of the Centre for Agriculture and Bioscience International, said farmers "who struggle to make ends meet" are being hit by the destructive pest.
"The attack is so sudden that farmers have absolutely no clue what is happening until their farmland gets attacked," Chaudhary said.
Khemo Baghel, a farmer in Chhattisgarh province, central India, said: "In just two months I saw the pests eat a third of my maize crop. There was no trace of them the day before."
According to the Food and Agriculture Organization of the United Nations, the worm, Spodoptera frugiperda, was first detected in central and western Africa in early 2016, where it is believed to have cost economies $3 billion in crop losses, and then quickly spread to Asia.
Chandish Ballal, director of India's National Bureau of Agricultural Insect Resources, said that going by a rough assessment, about 20 percent loss of yield has already happened in India.
"It is very difficult to fight the pest because it has the ability to become chemical resistant. That explains why we should encourage the use of bio-insecticides," she said.
Though maize is the favorite diet of the worm, it also dines on several other crops, including rice, sugar cane, cotton and vegetables.
The FAO admitted that the worms are difficult to fight.
In March, Asian, African and European experts from the FAO met in Bangkok with representatives from Asia's fall armyworm-infested countries to prepare action plans. They favored biological solutions and warned against using chemical pesticides.
A.N. Shylesha, a scientist at the Indian bureau, said farmers in distress are spraying chemical insecticides as they have done with other invasive insects in the past. "This must be discouraged," Shylesha said.
According to Ballal, participants at the Bangkok meeting agreed that more work needed to be done to assess the impact of the worm regionally and monitor its geographic spread. China, she said, is doing excellent work.
"With the help of technology and radar, (Chinese) scientists are busy understanding the migration pattern of the fall armyworm And based on the findings, they will strategize and formulate their technology, which will be beneficial for all the affected countries in the long run," she said.
Ballal called upon companies to work with agri-scientists to evolve "soft, affordable and sustainable" solutions.
Chaudhary recommended mechanisms like pheromone traps, training and educational clinics for farmers and other stakeholders.
"We are holding plant clinics in the region to share knowledge and provide support in tackling the pest," she said. Southeast Asia is a vulnerable region and farmers need significant support in managing the pest sustainably, she added.
According to the FAO, the fall armyworm caterpillar is the larvae of the fall armyworm moth, which can fly up to 100 kilometers a day. Its ability to travel long distances explains how the pest burst out of Africa. Moreover, each female moth can lay 1,000 to 1,500 eggs.
Muni Muniappan, director of the Integrated Pest Management Innovation Lab in the United States, said, "I would recommend all countries that expect invasion of the fall armyworm to set up task forces. Setting up regional task forces will help coordinate forecasting, monitoring and sharing of information on management of the worm," Muniappan said.
After the pest was found late last year in an area northwest of Bangkok, Thailand's Department of Agriculture said the country has "never had this one before".
In Sri Lanka, wherever it was found in major maize growing areas, farmers were asked by the government not to plant the crop until further notice.
Meanwhile, the FAO has launched an app for farmers to report the level of infestation and map its spread.
Arunava Das is a freelance journalist based in Kolkata, India.