Brewing interest through ecological cultivation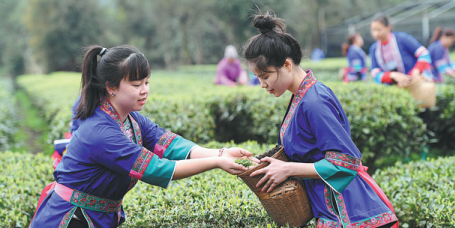 If being newly crowned as one of the 28 must-visit destinations for the year of 2019 isn't enough to visit Fanjing Mountain in Southwest China's Guizhou province, there is one more attraction that might lure visitors - its green tea named cuifeng, meaning emerald-colored pinnacles in Chinese.
Described as "a sacred Buddhist site and a place rewarding hikers with bizarre rock formations and above-the-clouds views" by the National Geographic Traveller magazine, which compiled the list, Fanjing Mountain is at an altitude of around 2,500 meters and remains one of the country's least polluted areas.
Now the biggest tea grower both by size and volume in the country, Guizhou processed 362,000 tons of tea in 2018, according to statistics provided by the provincial agricultural department. That amount is almost three times that of the United Kingdom's annual consumption of tea in 2017.
"Our agronomy used to struggle with our unique geography and climate characteristics, which can be described as no three consistent days of sunshine, and no three adjoined mu of flat fields," said Hu Jicheng, vice-director of the province's agriculture department.
"But the tea industry is actually blessed by such characteristics, since high altitude and a moist climate helps nurture good tea," he added.
However, instead of highlighting a certain variety or tea with a delicate aroma, the agriculture department promotes the area's pollutant- and chemical-free features as its cutting edge to compete with some of the more famous tea producers in other provinces.
According to Hu, the province has raised the number of prohibited pesticides on tea plants to 120 types, the highest in the country.
Also, by incorporating tea plantations with forests, an ecological balance has been naturally created to grow "clean tea", as Hu put it.
In the case of Fanjing Mountain, which is home to 382 vertebrate species, including wild pandas, clouded leopards and the planet's largest habitat of gray snub-nosed monkeys - 700 in total - the nature reserve has been dubbed one of the most well preserved "green reservoirs" in the world.
Its rich biodiversity also earned it a place on the list of UNESCO World Heritage Sites last year.
With a tea-growing history dating as far back as the Ming Dynasty (1368-1644), villages in the mountainous region have largely relied on the production of tea to get out of poverty.
Last year, the local government organized its first International Matcha Culture Festival, as part of its efforts to not only upgrade its tea processing industry, but to also encourage more tourists to come and sip tea amid the phantasmagoric beauty of Fanjing Mountain.
Related:
Tea tourists infuse new life into rural China
Local 'rock' star grows Wuyi Mountain trade
`