Labor Day vacation extension leads to more travel plans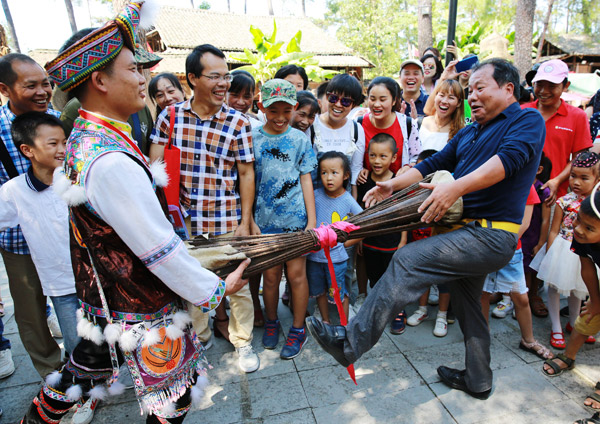 In response to an appeal from the public, the State Council said in March that the Labor Day holiday this year will be extended from one to four days. Following the announcement, more people started making plans to travel.
On online travel site Ctrip, the number of searches for tours to popular destinations in South China increased by more than seven times as compared to the previous week, and the search volume for international tickets increased by five times.
Liu Yuanju, a researcher with the Shanghai Institute of Finance and Law, said that longer public holidays can boost the domestic tourism sector.
As per his estimates, the abolishment of the seven-day Labor Day holiday since 2008 has caused a loss of 500 billion yuan ($74.44 billion) in the tourism sector.
During the National Day holiday last year, Chinese travelers made a total of 726 million trips around China during the seven-day holiday, generating tourism revenue of 599 billion yuan, whereas for the Labor Day holiday last year, tourists made a total of 147 million trips and generated a revenue of 87.1 billion yuan, according to the Ministry of Culture and Tourism.
"After 10 years, the Labor Day holiday should be extended to fuel domestic demand, especially when both investments and exports in China are under pressure," Liu said.
He added that the tourism sector is definitely a driver for the nation's economy.
Last year, the tourism industry contributed a total revenue of 9.94 trillion yuan, which is about 11 percent of China's GDP, according to figures from the ministry.
Peng Liang, a researcher with the big data department of Ctrip, told newspaper Shanghai Observer that the length of the holidays has become a key factor in affecting domestic tourism consumption.
"Now, tourists are too concentrated during the National Day holiday, which has led to pressure on public resources and unpleasant experiences for people," Peng said.
"This is obvious evidence to show that the existing holidays are not enough, too few that everyone goes on trips at the same time. The increase in Labor Day holidays this year will undoubtedly help divert tourists from National Day and play a balancing role in the tourism season," he added.
Zhou Shihong, a lawyer and a member of the 13th National Committee of the Chinese People's Political Consultative Conference from Anhui province, said that there is no need to worry too much about the centralized travel during holidays.
"In the past decade, the construction of transportation facilities, especially the high-speed railway network, has greatly improved and increased tourism capacity," Zhou said.
"The infrastructure of tourist attractions has also been greatly developed, with the management of tourism sites and emergency management capabilities having been significantly enhanced," he added. "Our scenic spots are more capable of receiving tourists during the peak season."
`