Celebrating the peaceful rise of China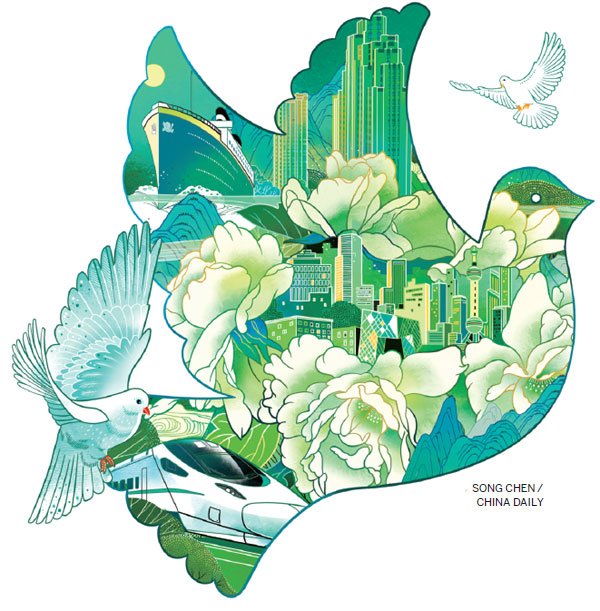 China's development is in sharp contrast to that of Western powers which has been based on wars of aggression and the plundered resources
The sharp contrast between China and Western countries in their rise shows that what China has achieved in the past 70 years really did not come easy. China's per capita resources are so limited that the cost of its industrialization has been very high.
What's more, China has had to properly handle relations with both Western powers and developing countries on the one hand, and address various domestic social contradictions and destabilizing factors on the other.
It is China's unremitting goal to seek development and harmony within the country and to pursue cooperation and peace with the international community. This has already become the will of the country and has been translated into national development plans and guidelines and implemented in practice.
Guided by the goal of peaceful development, China's various measures of reform and opening-up have promoted its development and progress across the board. The Communist Party of China's observation of the ever fiercer competition and numerous challenges in the world, as well as its sober assessment of the times, are reflected in its governance wisdom and enabled the country to get a clear understanding of the current world, and closely follow the major trends and seize the momentum of the times.
China exports no revolution or ideology, engages in no arms race or value-oriented diplomacy, and does not intervene in the domestic affairs of other countries. China does not identify a circle of friends based on ideology and far transcends the cold-war zero-sum game mentality of countries being either friends or foes. Instead, it is committed to a path of win-win cooperation and a partner network of global reach is taking shape.
China's participation in the World Trade Organization, the world's largest multilateral trading system, has enormously enhanced win-win cooperation between China and the world, facilitated the allocation and flow of production factors in the world, helped China become the world's biggest trader in goods and made it possible for China and other countries to benefit from the dividend of China's peaceful development through fair trade.
China is both a contributor and a beneficiary of economic globalization. The essence of Western-propelled globalization over these years is the globalization of neoliberalism. It is both economic and political, and includes liberalization, privatization, marketization and democratization. Economic globalization is a major trend of history which China must seize and follow. Of course, it is a double-edged sword, if properly handled globalization will improve the wellbeing of the Chinese people, but if mismanaged it will lead to disaster or even obstruct China's development. Therefore, China has taken the approach of drawing on its advantages and avoiding any pitfalls that may be created by its opening-up.
China has set a clear definition for globalization: It's economic, not political. Instead of abandoning socialism, China uses the strengths of socialism with Chinese characteristics to harness the globalization of neoliberalism that is driven by Western countries. This has made China stand out on the international stage and made the Chinese beneficiaries of economic globalization.
A key reason why China can maintain its peaceful development is that it has relied on endogenous development. As a super-sized country, China faces population, environmental and social development pressure. But to resolve these difficulties, China has relied on domestic economic, social and political reforms to constantly emancipate and develop productivity. This forms a sharp contrast to some Western countries which exported their own crises to other countries. In some sense, the road of socialism with Chinese characteristics means finding Chinese solutions to various difficulties in the process of industrialization, urbanization and agricultural modernization and creating a new set of approaches.
History shows that China's peaceful development is a journey in which it has to confront and overcome challenges of all kinds. China's current efforts involve transitioning from exports and investment-driven growth to industrial upgrading and innovation and consumption-driven growth. This road of endogenous development is wider and brighter, China is likely to become the world's largest consumer market. Endogenous growth and development can help us maintain patience and resolve, handle international trade frictions in a reasonable manner and push forward the Belt and Road Initiative and new-type of globalization.
The Chinese love and cherish peace, and there is a profound historical and cultural tradition in this nation for peaceful development. For the best part of the past 2,000 years, China was the world's largest economy with a far more sophisticated economy than Western countries at the same time. The fleet of Zheng He's overseas expeditions in China's Ming Dynasty (1368-1644) was 100 times larger than that with which Christopher Columbus "discovered" the American continent. But what China engaged in was only international exchanges and trade. There was neither expansion nor colonization. China has held the wisdom from ancient times that a warlike country, not matter how strong as it is, contains the seeds of its own destruction.
President Xi Jinping has stressed that the 5,000-year-old Chinese civilization has always upheld peace; and that the pursuit of peace and harmony is deeply rooted in the spiritual world of this nation and runs in the blood of its people. The Chinese nation has always advocated precious harmony, peace for the whole world and good neighborly and friendly relations. The history of Western invasions and national humiliation have given the country an acute and deep understanding of the value of peace. Therefore, the People's Republic of China, from day one, has made solemn pledges that China will never seek hegemony even when one day it is strong. The success of China's peaceful development is also rooted in the traditional wisdom of its civilization which valued harmony and stability. The success embodies the combination of our cultural genes and modern spirit. Our cultural legacy has been brought into life by reform and opening-up, and has become a major source of wisdom for China.
The author is dean of the China Institute at Fudan University and a member of the Council of China Top Think Tanks. The author contributed this article to China Watch, a think tank powered by China Daily. The views do not necessarily reflect those of China Daily.